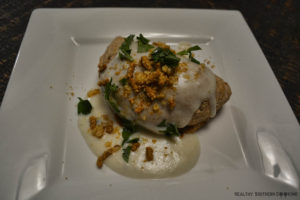 Growing up both my mama and grammy made a lot of recipes that they found on the side of soup cans and boxes. Many were quick and easy fixes, others inexpensive meals and some became family favorites.
One of the recipes that really stood out to me was one my mama would make with refrigerator rolls that was filled with chicken and bran cereal. Considering that was probably around 40 years ago, I am not sure where she came across the recipe. So I tried to recreate it from memory.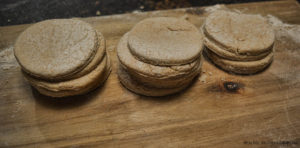 To start, I knew I needed it make it healthier than store bought refrigerator rolls so I opted to make my whole wheat biscuits and roll them thin and cut them a little larger than regular biscuits.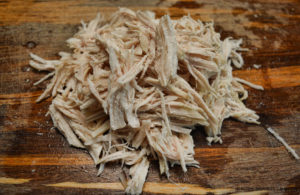 The filling has shredded chicken that I boiled in chicken broth for nearly 2 hours over a high simmer until it was falling apart. I shred the chicken and add diced onions, bran cereal which adds extra fiber, chopped walnuts and seasonings including sage and thyme.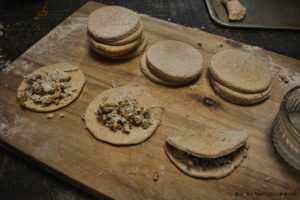 I take the biscuit rounds and moisten the edges with water then add the filling and fold over the biscuit and seal the edges. They then go onto a greased baking sheet and into the oven.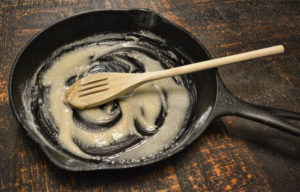 While the hand pies are baking, I make the white gravy by first forming a roux with some canola oil and whole wheat flour. I slowly whisk in milk, chicken bouillon for some added flavor and fresh cracked black peppercorns. I continue to whisk the gravy until it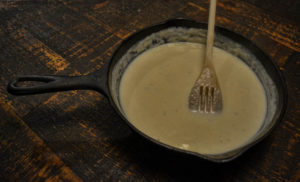 thickens.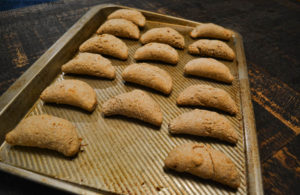 Once the hand pies are removed from the oven and slightly cooled, I place them on a serving platter and spoon the white gravy over the top and garnish with some additional bran cereal, walnuts and fresh parsley.
These can be made larger if you would prefer, like a calzone and served for dinner. In the smaller size they can still be served as a meal and make a great appetizer which you can serve the gravy on the side. They would also be great at brunch as well.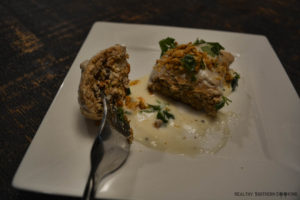 Chicken & Biscuit Hand Pies with White Gravy
2017-04-23 10:47:03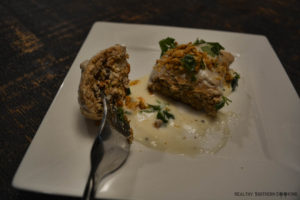 Serves 10
For the Filling
1-1/2 cups chicken, cooked and shredded

1/2 cup bran cereal

1/4 cup onion, diced

1/4 cup walnuts, chopped

1/2 tsp. sea salt

1/4 tsp. ground black pepper

1/4 tsp. rubbed sage

1/4 tsp. dried thyme
For the Biscuits
1-1/2 cups whole wheat flour

1-1/2 cups self rising flour

1 tsp. sea salt

1 tablespoon baking powder

4 tablespoons grass fed cow butter

1-1/3 cups lowfat buttermilk

nonstick cooking spray

extra flour for dusting
For the White Gravy
2 tablespoons canola oil

2 tablespoons whole wheat flour

2 cups whole milk

1 tsp. chicken bouillon (powdered or base)

1 tsp. cracked black peppercorns
Other ingredients
nonstick cooking spray

1/2 cup water

additional bran cereal, walnuts and parsley for garnish.
Add ingredients to shopping list
If you don't have Buy Me a Pie! app installed you'll see the list with ingredients right after downloading it
For the Filling
In a large bowl combine all ingredients for the filling, set aside.
For the Biscuits Hand Pies
In a large bowl mix all dry ingredients, you can do this by hand or can do in standing mixer with paddle attachment.
Gradually add buttermilk a 1/3 of a cup at a time and work into dry ingredients, still using the paddle attachment to standing mixer at low speed or manually with your hands.
Keep mixing until dough forms a ball and it is not sticky to the touch, add extra whole wheat flour a tablespoon at a time if needed.
On a lightly floured surface roll out dough to just over 1/4" thick.
Using a large biscuit cutter or glass about 4 to 5 inches in diameter and cut 10 biscuits.
Preheat oven to 400 degrees.
Lay biscuit rounds on work surface.
Using fingers and spread water onto edges of biscuit.
Spoon chicken mixture onto one half of the biscuit, stretch and pull other half of biscuit over filling and press edges to seal.
Place hand pie onto baking sheet treated with cooking spray.
Repeat until all biscuits are stuffed.
Spray tops of biscuits with cooking spray.
Place in preheated oven and bake 20 minutes until golden brown.
For the White Gravy
While the hand pies are baking make the gravy.
Combine oil and flour in skillet over medium heat to form a roux.
Gradually whisk in milk.
Add chicken bouillon and cracked black pepper, continue to whisk continuously until thickened. Once thickened, remove from heat.
Spoon gravy over hand pies, garnish with some additional bran cereal, chopped walnuts and parsley if desired.
If serving as an appetizer you can alternatively serve the gravy on the side for dipping.
Notes
For making shredded chicken, one large boneless and skinless chicken bread low boiled for over an hour on the stove, cooled can be shredded with your hands or two forks. It is important to cook it low and slow to make it super tender to shred.
Print
Healthy Southern Cooking https://healthysoutherncooking.com/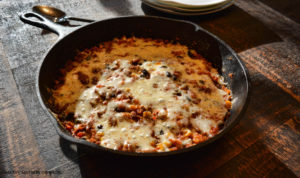 I have never been a big fan of casseroles. I guess because most of the ones I had were blah, tasteless and quite frankly, looked disgusting. Many that I had encountered should have been labeled, "Casserole Surprise" or "Leftover Surprise". They had everything but the kitchen sink.
This casserole is one that my mama use to make when I was growing up, it had some basic, simple ingredients so I spiced it up with some different ingredients and spices and also chose to use a leaner meat and add some extra protein with beans.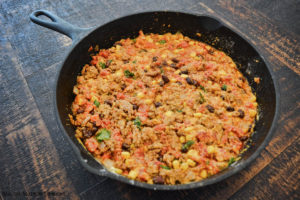 Aside from the great flavor in this casserole, it is prepped and cooked all in the same pan. If you don't have an ovenproof pan, you can transfer to a casserole dish to bake. It starts with ground turkey that I brown and crumble. You could substitute any ground meat that you have on hand. To that, onion and garlic are added. Spices are added like chili powder, cumin and oregano. Once the ground turkey mixture is fragrant from the aromatics and spices, I add in diced tomatoes and chilies. You can substitute canned petite diced tomatoes for fresh, you can also used canned diced green chilies. Another option would be 2 cans of diced tomatoes and chilies all in one can, such as Rotel. Corn, black beans, cilantro, cornmeal with baking powder are all added and mixed well. This mixture is patted down flat and then goes into the oven to bake. While the turkey is cooked through, this step allows the cornmeal to absorb the liquids and expand and become more like the texture of steamed masa throughout the casserole.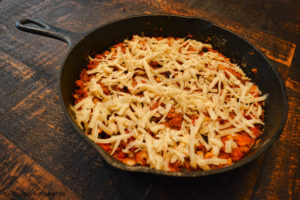 The casserole comes out of the oven and shredded cheese is added to the top. I prefer a pepper Jack cheese but if you want a milder flavor, Jack can be substituted. The casserole is returned to the hot oven, to allow the cheese to melt.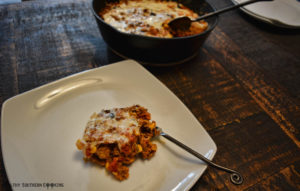 To serve, simply spoon out onto serving plates and dig in.
You can serve with additional toppings like sliced jalapenos, sour cream, guacamole or salsa.
This casserole can be made ahead of time, covered and placed into the fridge until you are ready to bake it.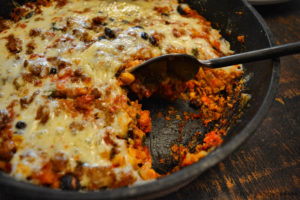 Tamale Casserole
2017-04-23 09:13:05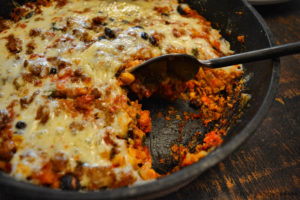 Serves 8
Ingredients
1 lb. ground turkey, 93% lean

1 medium onion, diced

2 cloves garlic, minced

1 tsp. sea salt

3 tablespoons chili powder

1 tsp. ground cumin

1/2 tsp. dried oregano

1/4 tsp. cayenne pepper (or to taste)

2 cups tomatoes, diced with juices

1/2 cup green chilies, diced

1-1/2 cups whole kernel corn

1-1/2 cups black beans

1/4 cup cilantro, chopped

1 cup yellow cornmeal mixed with 2 tsp. baking powder

1/2 cup jack or pepper Jack cheese, shredded
Add ingredients to shopping list
If you don't have Buy Me a Pie! app installed you'll see the list with ingredients right after downloading it
Instructions
Preheat oven to 350 degrees.
In a large oven proof pot or dutch oven, add ground beef and brown over medium-high heat, breaking into pieces as it cooks.
Add onion and cook until onions are tender, about 5 minutes. Then add garlic, stir and cook one minute.
Add salt, chili powder, cumin, oregano and cayenne pepper, stir well.
Add tomatoes and their juices, green chilies, corn, black beans and cilantro, mix well.
Mix in the cornmeal that has been mixed with baking powder to the pot, stir well that everything is thoroughly mixed. Pat down top with back of spoon to make level.
Place in preheated oven and bake 35 minutes.
Remove from oven, turn off oven.
Sprinkle top with cheese, place casserole back in oven and allow cheese to melt, 2 or so minutes.
Remove and serve by spooning onto serving plates.
Print
Healthy Southern Cooking https://healthysoutherncooking.com/