I know that cutting back on red meat is healthy for you, I try to keep it for once a week and when I choose steaks I choose a leaner cut of meat and a thin cut. These are thin cut New York strip steaks trimmed of fat, each one is 3 to 4 ounces.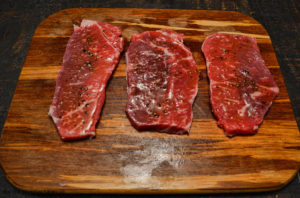 Normally when I pan sear steaks I do it with a combination of stove top followed by the oven but since these are so thin, they are easy to do just on the stove top.
First thing I do is rub olive oil on both sides of the steak followed with generous amount of sea salt and ground black pepper.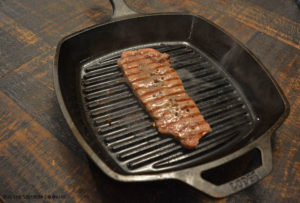 I heat my grill pan over medium-high heat and once it is hot put the steaks on. They should sizzle as soon as you put them on the grill. I cook each one about 1-1/2 to 2 minutes per side then remove the pan from the heat and they continue to cook, especially in cast iron.
In my family, no one likes the same toppings on their steaks, we all have different preferences. Continue reading "Steak ~ Three Ways" →