Hi, my name is Deborah and I live on 30 acres in a rural area of Northwest Arkansas in the Ozarks. I have family roots deeply planted in the south. I've been called the Cast Iron Diva ever since my grandmother handed down her mother's cast iron cookware to me and I started creating all sorts of recipes using them.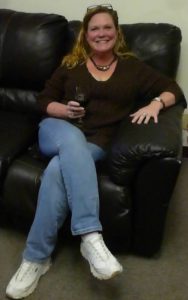 One of my passions is traveling. I love experiencing different sights, cultures and food. I've tried to travel as much as I can. As a kid, we never lived in one place longer than 3 years and we lived in a few different places; California, New Jersey, Germany, Canada and Mississippi. We also traveled a lot through Europe, safaried in Africa and took many road trips throughout the United States, I think that is when the travel bug bit me. As an adult I've taken many grand adventures, including South America, Caribbean, Mexico, Europe and across the United States including Alaska and Hawaii.
My main hobby is cooking, I love it and don't think of it as a chore. Even when I worked 50+ hour weeks, I still came home made dinner and loved it. Nothing is like the gift of food, so much love and thought goes into creating a meal. It brings the whole family together at the table to discuss the days events, love, life, laughter, it's all there and it happens over food. What event in life doesn't have food?
I am also an avid photographer, which goes hand-in-hand with both food and traveling.
Food Travels

Ilha Grande, Brazil

Caipirinha

Dublin, Ireland

Traditional Irish Breakfast - Temple Bar

Cloud 9 Dessert

Vancouver, B.C.

Nashville, Tennessee

Street Tacos at Solario Cantina at The Gaylord

Vancouver, B.C.

Filet Mignon

Fish & Chips

Fareham, UK

Johnny Rockets

Voyager of the Seas

Gastown, Vancouver, B.C.

Nachos at Steamworks

Avenue des Champs-Élysées Paris

Charcuterie Platter with Champagne - Cafe George V

Blackpool, U.K.

Pizza at Frank & Benny's

Universal City, California

Cheese Platter - The Hilton

Vancouver, British Columbia

Cappuccino at Cloud 9

Los Angeles, California

Breakfast at The Original Pantry

Grand Cayman

Margaritaville

Seattle, Washington

Relish Burger Bistro - The Westin

Vancouver, British Columbia

Breaking Bread at Cloud 9

Washington, D.C.

Charcuterie Platter at The Willard

New Orleans, Louisiana

Pierre Maspero's Catfish, Hush Puppies & Fries

Hollywood, California

Rigitoni at the Hollywood Bowl Garden Box

Seattle, Washington

Fried Cheese Curds

Princess Cruise Lines

Chocolate Mousse

Juneau, Alaska

Halibut & Salmon

Coral Princess

Sabatini's

Santa Teresa, Brazil

Black Bean Pastries

Falmouth, Jamaica

Acai Berries

London, England

Bread at Côte Brasserie along the Thames

Dover, UK

Breakfast Under the White Cliffs of Dover

London, England

Red Lion Inn - Pie and Ale

Rio de Janeiro, Brazil

Farmer's Market

New Orleans, Louisiana

Cafe du Monde Beignets

Universal City, California

Room Service at the Hilton

Royal Caribbean - Voyager of the Seas

Stateroom Dining

Vancouver, British Columbia

Poutine at Stanley's (Stanley Park)

Kauai, Hawaii

Dinner at sunset on the Lanai.

Virginia Beach, Virginia

Calamari at Oceans 14