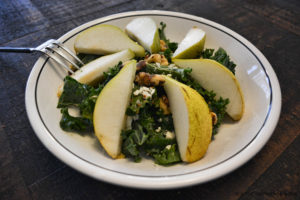 One of my favorite lunches are salads, they are good for a light meal and can be filling depending on what all goes in it, such as nuts, croutons, meat, cheese, fruits and vegetables. They are fresh and packed full of nutrients and antioxidants.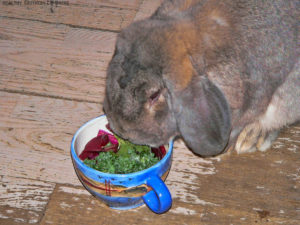 Until recently, I always made salads with lettuce whether it be romaine, bibb, red leaf, etc. The only living creature in my house that ate kale was our rabbit, Opie, who was an 18 lb. French Lop who thought he was one of the dogs.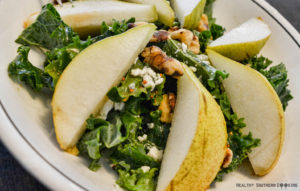 I start off with freshly washed kale leaves that I separate from the stem by holding the stem firmly in one hand and grab the leaves like a claw on each side of the stem with the other hand then pull down. I chop the leaves into bite size pieces then toss them with a French vinaigrette. Yes, I seem to have lots of recipes with French vinaigrette, it is so versatile, easy to make and works well with so many different salads and makes a good marinade. I try to make a practice of tossing greens with the dressing before adding other ingredients so you use less dressing.
I top the salad with bleu cheese crumbles, walnuts and a sliced pear. This salad has it all, tons of texture, pungent bleu cheese, sweet pear and tart vinaigrette. It is great for a light meal and also a great side salad as well. While the nutritional data provided seems high, the fats in this salad are good fats coming from walnuts and olive oil, saturated fat is low (<9). This salad contains more than 100% of your recommended allowance of Omega-6 oil and nearly 200% of Omega-3 oil. Also over 100% for vitamin A and copper and packs nearly 300% of vitamin K.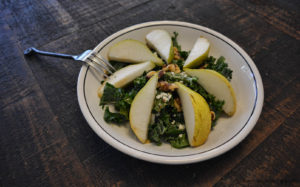 Pear & Kale Salad
2017-05-02 09:29:28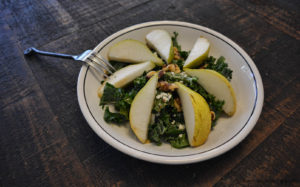 Serves 1
Ingredients
2 cups kale, chopped

1 ripe pear, sliced

1 oz. bleu cheese crumbles

1 oz. walnuts, chopped
For the Dressing
2 tablespoons white or red wine vinegar

1 tablespoon olive oil

1 tsp. whole grain mustard
Add ingredients to shopping list
If you don't have Buy Me a Pie! app installed you'll see the list with ingredients right after downloading it
Instructions
Start off my combining all the ingredients for the dressing, mix well.
Place kale in bowl or plate, toss with dressing.
Sprinkle top of salad with bleu cheese and walnuts.
Arrange pear slices on top and serve.
Print
Healthy Southern Cooking https://healthysoutherncooking.com/