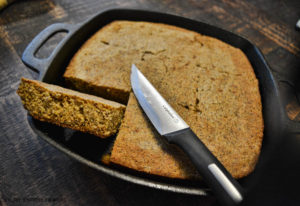 Cornbread is a quick bread, meaning it doesn't contain yeast and requires no time to rise. It has deep roots with the Native Americans and the colonists that settled in the southern colonies. In the south it is a staple in most households and Southern cornbread is not sweet nor fluffy like a cake. Ours is grainier, more dense and made with delicious buttermilk and served with butter. You may be surprised to know that buttermilk has fewer calories and fat than that of milk.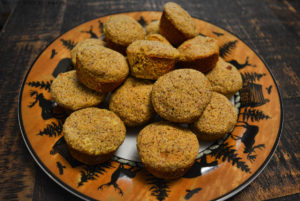 The main ingredient in cornbread is, you guessed it, cornmeal. Cornmeal comes in a few varieties; white, yellow and even blue. Typically cornbread usually uses the yellow, which tends to me the most common variety. Corn is a cheap grain to grow and there is usually an abundance of it, not only here in the United States but in Mexico as well, where Mayans used the grain to make masa for tortillas and tamales. Here in the South, cornmeal is commonly used not only for cornbread but also corn pone, hushpuppies and Johnnycakes, which are actually a Northern dish.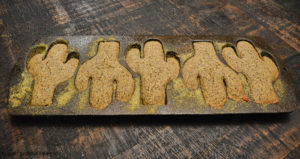 Cornbread can be baked or fried and comes in a variety of forms. This recipe is the baked variety which can be baked in molds, muffin tins, skillets or pans.
Typical cornbread consists of cornmeal and all purpose flour but to make this healthy I've substituted whole wheat flour and flax seed meal for the all purpose flour. Sea salt, baking soda and buttermilk are added to make a rich, thick batter that is then poured into the molds or pans for baking. It is a quick baking bread, 15 minutes to golden perfection and to your dinner table. You can also get creative with it by adding bacon crumbles, onions, chives, diced jalapenos, to name a few, to the batter to create another variation.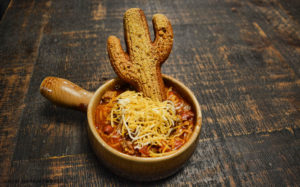 Cornbread is often served with bean dishes, chili and as a side at Thanksgiving.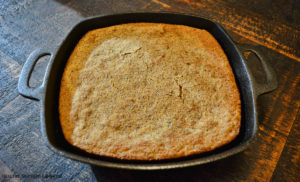 Buttermilk Cornbread
2017-04-20 12:13:20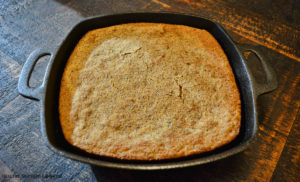 Serves 12
Ingredients
1 cup yellow cornmeal

1/2 cup flaxseed meal

1/2 cup whole wheat flour

1 tsp. sea salt

1 tsp. baking soda

2 cups lowfat buttermilk

nonstick spray and extra cornmeal for dusting
Add ingredients to shopping list
If you don't have Buy Me a Pie! app installed you'll see the list with ingredients right after downloading it
Instructions
Preheat oven to 425 degrees.
Spray cast iron mold or muffin pan with nonstick spray and dust with cornmeal, set aside.
In a large bowl, sift together cornmeal, flax seed meal, flour, salt & baking soda.
Whisk buttermilk into dry ingredients.
Spoon scant 1/4 cup of mixture into molds or muffin tins.
Bake in oven 15 minutes or until golden brown and cooked through.
Notes
The nutritional data provided for this recipe is for a dozen. Since there are so many options as to what you can baked these in I will provide the data for the entire recipe so you can adjust it to your needs.
1429 Calories - 215.65 Carbohydrates - 43.97 Fat - 50.67 Protein
Print
Healthy Southern Cooking https://healthysoutherncooking.com/
© 2017, Healthy Southern Cooking. All rights reserved.