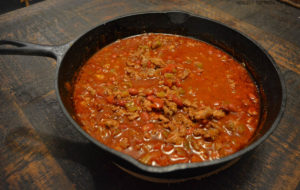 Chili con carne originated in Texas and is recognized as the state's official dish. Chili stands expanded throughout the United states with a wide variety of different techniques and flavors depending on location such as Cincinnati and Chicago, much like styles of barbecue.
Chili cook offs are one of the most popular cooking contests that exist in the United States and chili just doesn't come in a bowl, it tops hot dogs, burgers, baked potatoes and fries, to name a few.
This is a healthy, light version of chili con carne that is packed with flavor, if you don't tell anyone they won't know it is ground turkey instead of ground beef.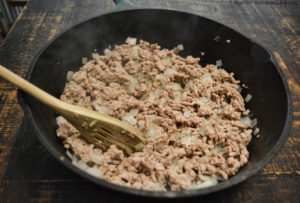 We start off browning the ground turkey. Since ground turkey is so low in fat, we can brown it in the pan then add the onions to saute, this step saves you from having to use oil to cook the onions. Then garlic is added, the smell of the onions and garlic will lead everyone into your kitchen.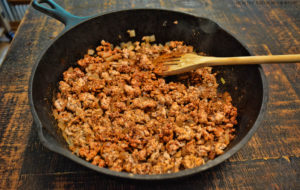 Spices are added to the turkey mixture, spices like chili powder, cumin, oregano, salt and cayenne, once mixed in, the ground turkey starts to take on the rich red color of chili.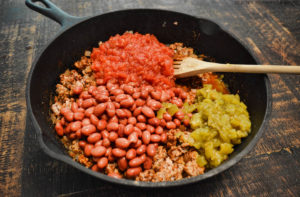 Tomatoes, red beans and diced green chilies are added. You can use fresh ingredients or canned, whichever works for you. While the recipe calls for red beans you can certainly substitute another type of bean such as kidney, pinto, black, navy, etc. If you want a spicier chili you can substitute diced jalapenos or do a combination of diced green chilies and diced jalapenos.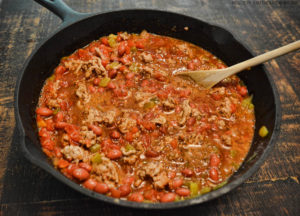 Chicken broth is added, you can add more or less depending on how much juice you prefer in your chili, I for one don't care for lots of broth in anything, I even drain most the broth out of chicken noodle soup. You may also substitute beer for the broth which works really well as in this chili.
While the chili doesn't require a long time to cook, it is best if simmered several hours and even better leftover the next day. One pot of chili for a family of four can actually make 3 meals; chili, chili dogs and nachos topped with chili, of course the possibilities are endless.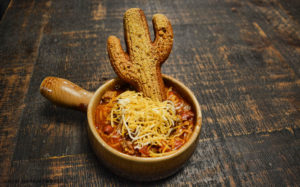 I like to top my chili with some shredded cheese and a few slices of jalapenos. I also like to serve it with cornbread or a crunchy corn chips. Grab a spoon and dig in!
Turkey Chili
2017-04-20 10:42:01
Serves 8
Ingredients
1 lb. ground turkey, 93% lean

1 medium onion, diced

3 cloves garlic, minced

4 tablespoons chili powder

2 tsp. ground cumin

1 tsp. dried oregano

1 tsp. sea salt

1/4 tsp. cayenne pepper (or to taste)

1-3/4 cup diced tomatoes with juices or substitute 1 can (14.5 oz) petite diced tomatoes

2 cups red beans either made from scratch or canned

1 (4 oz.) can diced green chilies

1 cup chicken broth
Add ingredients to shopping list
If you don't have Buy Me a Pie! app installed you'll see the list with ingredients right after downloading it
Instructions
Brown turkey in large pan over medium-high heat until no pink remains, about 10 minutes.
Reduce heat to medium and stir in diced onions and cook until soft, about 8 minutes.
Add garlic, stir and cook one minute.
Add spices and salt, stir until well mixed.
Add tomatoes, beans, green chilies and chicken broth, stir then bring to a boil over high heat.
Cover and reduce to simmer, simmer at least one hour but chili is best when when simmered a couple hours or longer.
Serve with shredded cheese, sour cream, cilantro or sliced jalapenos.
Print
Healthy Southern Cooking https://healthysoutherncooking.com/
© 2017, Healthy Southern Cooking. All rights reserved.