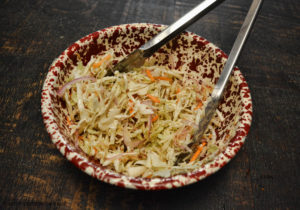 I created this slaw to go on top of pulled pork but it works good with any sort of barbecue or picnic and would be good topped on many different sandwiches, fish tacos and hot dogs. Not only does this slaw have a burst of great flavors; sweet, tart and savory but a great crunch.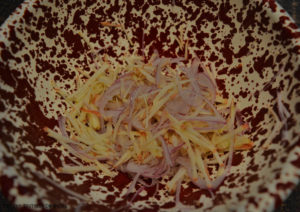 This slaw starts out with shredded green cabbage and shredded carrots. If you are short for time or if you prefer, you can use the already shredded cabbage mix in the produce department, most also have red cabbage as well and that will just add more color to this slaw.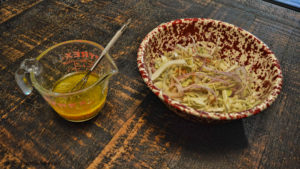 Thinly sliced red onion and matchstick size julienned apples are added to the cabbage mix. As far as apples go, you can use sweet or tart or a mix of both. For presentation purposes I would use an apple with reddish skin but it is totally up to you or what you have on hand.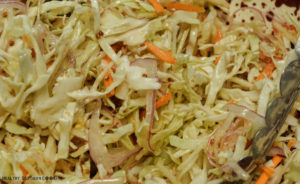 The slaw is then tossed with a simple French vinaigrette which is olive oil, apple cider vinegar, whole grain mustard and a tad bit agave nectar.
Toss and serve as a side or as a condiment!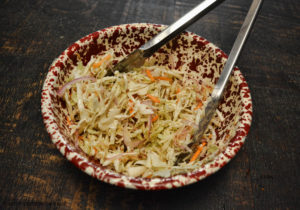 Apple & Red Onion Slaw
2017-04-30 15:18:06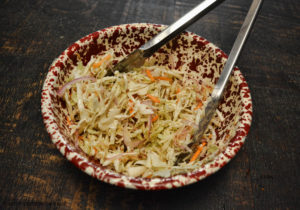 Serves 8
Ingredients
3 cups green cabbage, shredded

1 cup carrots, shredded

1/3 cup red onions, thinly sliced

3 medium apples, julienned matchstick size
For the Dressing
1/4 cup olive oil

1/2 cup apple cider vinegar

2 tablespoons whole grain mustard

1 to 2 tablespoons agave nectar
Add ingredients to shopping list
If you don't have Buy Me a Pie! app installed you'll see the list with ingredients right after downloading it
Instructions
In a large bowl combine cabbage, carrots, red onions and apples, loosely toss to mix.
Cover and keep cabbage mix cool in refrigerator until ready to serve.
In a small bowl or cruet, combine all the ingredients for the dressing. As far as the agave nectar goes, depends on how sweet you would like it. I suggest adding one tablespoon and mix then sample and see if you need more.
Pour dressing over slaw and toss.
Serve cool.
Notes
Nutrition facts are based on 2 tablespoons of agave nectar.
Print
Healthy Southern Cooking https://healthysoutherncooking.com/
© 2017, Healthy Southern Cooking. All rights reserved.