So what's a butterbean, you may ask. It refers to the larger, flatter, paler lima bean which when cooked has a buttery taste and texture to it. The other variety of lima bean is a baby lima which is small, firmer and greener. To try to simplify this, a pot of lima beans that are large, beige or pale yellow, served alone as a side dish are butterbeans. Succotash, which is another Southern favorite, consists of sweet corn and small, green, firm lima beans.
Lima beans have been cultivated since 2000 AD, mainly in Central and South America. They originated in Peru and when they were introduced to Europe and America, the crates were labeled from Lima, and that is how both varieties of these beans got their names.
Southern butterbeans are both sweet and salty, have a soft butter flavor and texture and are served as a side at barbecues, holiday dinners and goes really well with ham and pork dishes, as well as cornbread.
We start with a pound of dry lima beans, not the baby limas, very important. You do not want to substitute canned butterbeans or limas, the flavor is no where near the same. The beans are rinsed in a colander, and sifted for any small pebbles.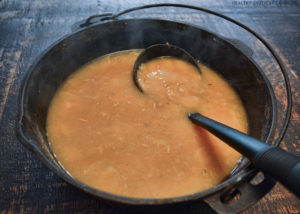 Beans are placed in a large pot or dutch oven with water or chicken broth, brought to a boil, covered and then removed from the heat to sit undisturbed for an hour. Using water will make this dish vegan or vegetarian, some people who are managing their sodium intake should also opt for water.
After the hour is up, diced onion, agave nectar, salt and pepper are added and the mixture is brought to a simmer, covered and allowed to cook 2 to 3 hours or until beans are soft and the liquid has become milky.
Butterbeans are often served with hot sauce or ketchup and are good to save for leftovers in the fridge for up to 3 days.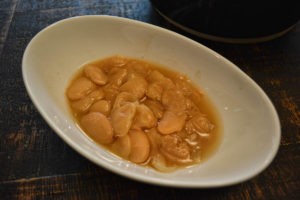 Southern Butterbeans
2017-04-21 12:41:46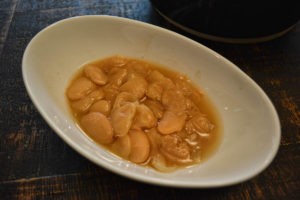 Serves 8
Ingredients
1 lb. dried lima beans (not baby lima)

4 quarts water or chicken broth

2/3 cup onions, diced

1/4 cup agave nectar

1/2 tsp. sea salt

1/4 tsp. black pepper
Add ingredients to shopping list
If you don't have Buy Me a Pie! app installed you'll see the list with ingredients right after downloading it
Instructions
In a sieve or colander, rinse dried beans and sort through to make sure there are no pebbles, discard if found.
In a large pot or dutch oven, add beans and water or broth.
Bring mixture to rapid boil over high heat, once boiling, cover and remove from heat, let sit undisturbed 1 hour.
Return pot to stove and heat to a simmer, add onions, agave, salt and pepper. Stir, cover and simmer 2 to 3 hours until beans are soft and tender and liquid has reduced and milky.
Serve alone or with hot sauce or ketchup.
Notes
If you are using water, soft water will make a creamier bean than hard water.
Nutritional data is calculated with using water.
Print
Healthy Southern Cooking https://healthysoutherncooking.com/
© 2017, Healthy Southern Cooking. All rights reserved.