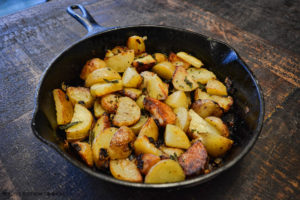 I think potatoes are one of the most versatile vegetables there is. Although I know many treat them as a vegetable, I did low carbohydrate for so long I treat potatoes and corn more like a grain. They come in a wide variety; russet, fingerling, Yukon gold, sweet potato, etc. and they all possess their own unique traits for color, taste and texture.
One of my favorite potatoes is the Yukon gold. They have a naturally golden color, buttery taste with a creamy texture. They are great boiled, fried and roasted.
Most of the nutrients in a potato are actually on the potato, its skin. Often when we prepare potatoes we peel all those nutrients off or in the case of a baked potato, we eat what is in the inside and don't eat the skin.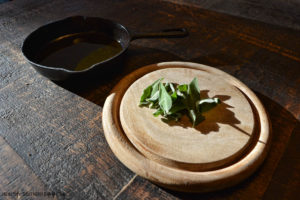 This recipe starts frying some fresh sage leaves in extra virgin olive oil. If you have never fried fresh herbs, it cooks unlike anything else you've ever fried before. Frying fragrant herbs in a healthy oil not only leave them with a nice crisp texture but leaves you with an infused oil that can be used for other recipes.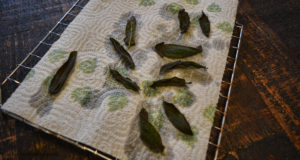 Once the sage leaves are fried, they are placed on a rack lined with paper towels to drain.
For this recipe, and all of my potato recipes, I leave the skin on that is why a Yukon gold is a good choice with its thin skin, it's easy to clean and cooks nicely unlike some other types.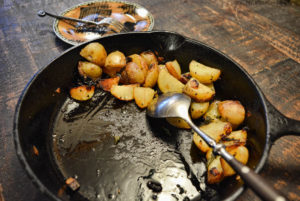 Some of the infused sage oil is mixed with chopped Yukon gold potatoes, diced onions, salt and fresh cracked pepper then roasted in the oven to golden perfection. The fried sage leaves are crumbled on top and mixed in with the potatoes and served.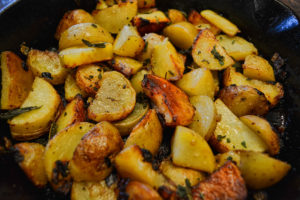 Pan Roasted Potatoes with Crispy Sage
2017-04-22 12:13:52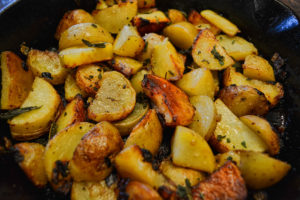 Serves 6
Ingredients
8 sage leaves

1/4 cup extra virgin olive oil

6 small Yukon gold potatoes, washed and scrubbed

1 small onion, diced

1 tsp. sea salt

1/2 tsp. coarse ground black pepper
Add ingredients to shopping list
If you don't have Buy Me a Pie! app installed you'll see the list with ingredients right after downloading it
Instructions
Preheat oven to 400 degrees.
In a small skillet over medium-high heat, add olive oil.
When oil starts to slightly ripple then the oil is hot enough to fry the sage leaves.
Add only one sage leaf at a time, they cook fast and will make some strange sizzling sounds and shrivel. Cook each leaf no longer than a few seconds. Remove from oil and place on rack lined with paper towels. Repeat until all the sage is fried.
Reserve oil.
Cut potatoes into bite size pieces and add to large skillet, add onions, salt and pepper. Spoon out two tablespoons of the olive oil leftover from frying the sage and add it to the potatoes, mix well.
Place potatoes in preheated oven and cook 30 to 35 minutes, stirring occasionally. When potatoes are golden brown remove from oven.
Crumble the crispy fried sage onto potatoes, stir and serve.
Notes
Save the remaining olive oil in air tight container in refrigerator, it is now sage infused oil and can be used in a variety of things; salad dressings, mashed potatoes, pasta, etc.
Print
Healthy Southern Cooking https://healthysoutherncooking.com/
© 2017, Healthy Southern Cooking. All rights reserved.