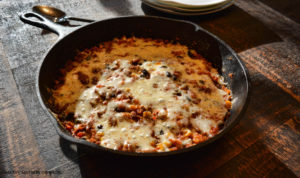 I have never been a big fan of casseroles. I guess because most of the ones I had were blah, tasteless and quite frankly, looked disgusting. Many that I had encountered should have been labeled, "Casserole Surprise" or "Leftover Surprise". They had everything but the kitchen sink.
This casserole is one that my mama use to make when I was growing up, it had some basic, simple ingredients so I spiced it up with some different ingredients and spices and also chose to use a leaner meat and add some extra protein with beans.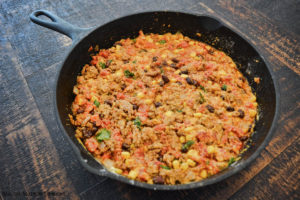 Aside from the great flavor in this casserole, it is prepped and cooked all in the same pan. If you don't have an ovenproof pan, you can transfer to a casserole dish to bake. It starts with ground turkey that I brown and crumble. You could substitute any ground meat that you have on hand. To that, onion and garlic are added. Spices are added like chili powder, cumin and oregano. Once the ground turkey mixture is fragrant from the aromatics and spices, I add in diced tomatoes and chilies. You can substitute canned petite diced tomatoes for fresh, you can also used canned diced green chilies. Another option would be 2 cans of diced tomatoes and chilies all in one can, such as Rotel. Corn, black beans, cilantro, cornmeal with baking powder are all added and mixed well. This mixture is patted down flat and then goes into the oven to bake. While the turkey is cooked through, this step allows the cornmeal to absorb the liquids and expand and become more like the texture of steamed masa throughout the casserole.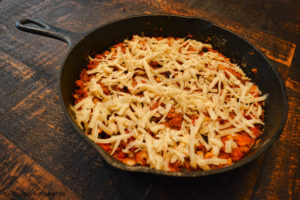 The casserole comes out of the oven and shredded cheese is added to the top. I prefer a pepper Jack cheese but if you want a milder flavor, Jack can be substituted. The casserole is returned to the hot oven, to allow the cheese to melt.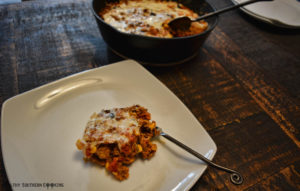 To serve, simply spoon out onto serving plates and dig in.
You can serve with additional toppings like sliced jalapenos, sour cream, guacamole or salsa.
This casserole can be made ahead of time, covered and placed into the fridge until you are ready to bake it.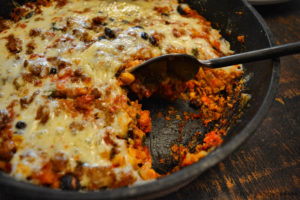 Tamale Casserole
2017-04-23 09:13:05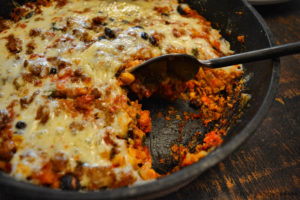 Serves 8
Ingredients
1 lb. ground turkey, 93% lean

1 medium onion, diced

2 cloves garlic, minced

1 tsp. sea salt

3 tablespoons chili powder

1 tsp. ground cumin

1/2 tsp. dried oregano

1/4 tsp. cayenne pepper (or to taste)

2 cups tomatoes, diced with juices

1/2 cup green chilies, diced

1-1/2 cups whole kernel corn

1-1/2 cups black beans

1/4 cup cilantro, chopped

1 cup yellow cornmeal mixed with 2 tsp. baking powder

1/2 cup jack or pepper Jack cheese, shredded
Add ingredients to shopping list
If you don't have Buy Me a Pie! app installed you'll see the list with ingredients right after downloading it
Instructions
Preheat oven to 350 degrees.
In a large oven proof pot or dutch oven, add ground beef and brown over medium-high heat, breaking into pieces as it cooks.
Add onion and cook until onions are tender, about 5 minutes. Then add garlic, stir and cook one minute.
Add salt, chili powder, cumin, oregano and cayenne pepper, stir well.
Add tomatoes and their juices, green chilies, corn, black beans and cilantro, mix well.
Mix in the cornmeal that has been mixed with baking powder to the pot, stir well that everything is thoroughly mixed. Pat down top with back of spoon to make level.
Place in preheated oven and bake 35 minutes.
Remove from oven, turn off oven.
Sprinkle top with cheese, place casserole back in oven and allow cheese to melt, 2 or so minutes.
Remove and serve by spooning onto serving plates.
Print
Healthy Southern Cooking https://healthysoutherncooking.com/
© 2017, Healthy Southern Cooking. All rights reserved.