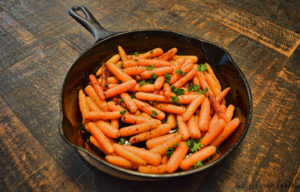 As I have mentioned in previous posts, I was never exposed to much in the way of vegetables when I was growing up. My father was forced to eat them as a child and hated them. He probably didn't hate the vegetable itself but more likely in the way in which they were cooked, or should I say, overcooked and probably minimal if any seasoning.
Some of the vegetables we did have when I was growing up were, potatoes, peas, corn and carrots, I've always loved carrots. Maybe it was the brainwashing that they are good for your eyes and I didn't want to wear glasses. Whenever there was a party with a veggie platter, I always went for the carrots and dipped them into gobs of ranch dressing.
So I thought, how can I make a roasted side dish with carrots with the wonderful flavor of ranch dressing?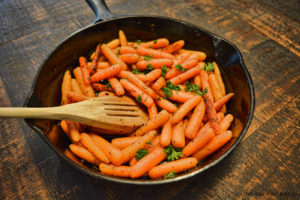 I took all the great herbs and spices used in ranch dressing; chives, garlic, paprika, parsley, tarragon, dill, onion, dry mustard and added a few grindings of sea salt and cracked black pepper then added that two a little olive oil and tossed the carrots to coat. These carrots roast in the oven to get tender then are finished on the stove top to get a little caramelization going on these sweet and flavorful carrots.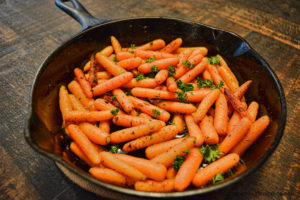 Ranch Roasted Carrots
2017-04-05 12:17:42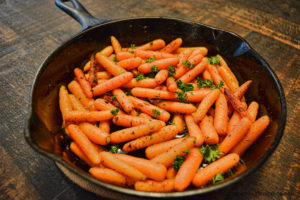 Serves 4
Ingredients
2 cups baby carrots

2 tablespoons olive oil

2 cloves garlic, minced

1/4 tsp. dried parsley

1/4 tsp. paprika

1/4 tsp. dried chives

1/4 tsp. dried tarragon

1/4 tsp. dried dill

1/4 tsp. onion powder

1/4 tsp. dry mustard

1/2 tsp. sea salt

1/4 tsp. cracked black pepper

fresh parsley for garnish
Add ingredients to shopping list
If you don't have Buy Me a Pie! app installed you'll see the list with ingredients right after downloading it
Instructions
Preheat oven to 400 degrees.
In a large bowl combine all ingredients, toss to coat completely.
Transfer carrot mixture to large oven proof skillet, preferably cast iron.
Place in oven and bake 20 to 25 minutes, stirring occasionally until carrots are tender.
Transfer to stove top and over high heat, stir frequently until carrots begin to caramelize and turn brown, 5 to 10 minutes.
Garnish with fresh parsley and serve.
Print
Healthy Southern Cooking https://healthysoutherncooking.com/
© 2017, Healthy Southern Cooking. All rights reserved.