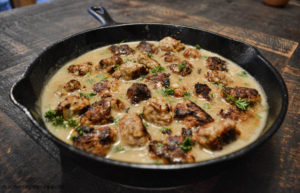 I think Swedish meatballs are probably the most popular recipe from Scandinavia, made in millions of kitchens across the globe all with their own unique varying ingredients which makes each one a little different yet at the same time, still the same.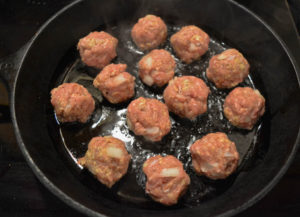 I like to deviate from the norm and add a new and different nuance to a recipe. For this recipe I opted for ground turkey, rather than beef, pork or veal but you can certainly use any type of ground meat you want for this recipe. I add to the ground turkey a number of aromatics, egg and also some milk soaked bread and oatmeal. Oatmeal is very heart healthy and it also stretches your meat further, like a filler but a healthy one that is high in antioxidants, soluble fiber and helps lower cholesterol.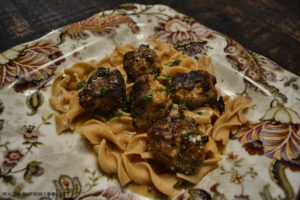 After the meatballs are all cooked, I work on the sauce that I use only a few ingredients including yogurt and mustard. Then I like to serve my Swedish meatballs on a bed of whole grain egg noodles or broad noodles.
Smaklig måltid!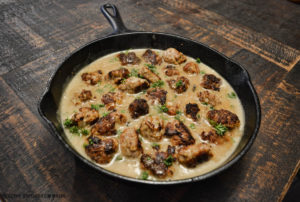 Swedish Meatballs
2017-04-05 10:06:06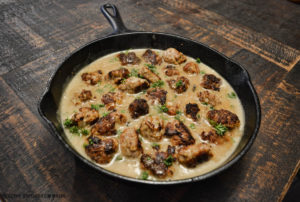 Serves 6
For the Meatballs
1 lb. ground turkey

1 small onion, diced

2 cloves garlic, minced

1 slice whole grain bread, torn into small pieces

2 tablespoons milk

1/2 cup rolled oats

1 egg

1 tsp. sea salt

1/2 tsp. white pepper

1/2 tsp. ground allspice

1/4 tsp. nutmeg

Nonstick cooking spray
For the Sauce
2 tablespoons canola oil

2 tablespoons whole wheat flour

1 tablespoon Worcestershire sauce

2 cups chicken stock

1/2 cup plain yogurt, preferably Greek style

2 tsp. whole grain mustard
Other Ingredients
6 oz. dry whole grain or whole wheat egg noodles

parsley for garnish (optional)
Add ingredients to shopping list
If you don't have Buy Me a Pie! app installed you'll see the list with ingredients right after downloading it
Instructions
In a large bowl, combine turkey with onion and garlic. I use my hands to mix but you can use whichever method works best for you.
In a small bowl add torn bread and milk, allow to soak for a few minutes.
Add in bread, oats and egg, thoroughly mix into turkey mixture.
Next add in the remaining ingredients for the meatballs, and knead one last time.
Form turkey mixture into golf ball sized meatballs.
In a large heavy skillet (treated with nonstick spray), over medium heat, add meatballs. If your pan is not big enough to hold them all you can either do them in batches or use a second pan.
Cook meatballs about 5 minutes the slightly rotate balls and cook another 5 minutes, repeat until no pink remains and meatballs are browned all around and cooked through.
Remove meatballs and set aside.
Cook noodles per package instructions.
While noodles are cooking you can start making the sauce.
In a large pan over medium-high heat, add oil and flour, to make a roux.
Add Worcestershire sauce and chicken stock, bring to a low boil then add in the yogurt and mustard. Allow mixture to thicken slightly, about 10 minutes.
Mix meatballs with sauce and serve over noodles, garnish with parsley if desired.
Print
Healthy Southern Cooking https://healthysoutherncooking.com/
© 2017, Healthy Southern Cooking. All rights reserved.