If you are a frequent visitor to this site, you have probably discovered that I tend to primarily use chicken tenders or thin cut chicken breasts that are also known as scaloppine cut which in Italian means small scallop, thin cut of meat. The reason I choose to use these particular cuts the most is because it is the easiest way for me to monitor my portion sizes as I try to keep poultry, meat and fish at around 4 ounces per serving. Usually 2 chicken tenders or one thin cut chicken breast equates to 4 ounces.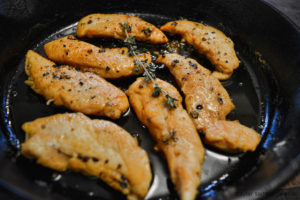 This recipe yields a very savory, juicy and tender chicken. The sauce is light with a hint of tart from the lemon and sweet from the honey. It pairs well with any sort of side dish; salad, rice, pasta, vegetables, potatoes, and so on.
I salt and pepper both sides of the tenders and then brown them on both sides in a heavy pan over the stove, this is only browning them and not cooking them thoroughly. I set the tenders aside and I start to make the sauce by adding fresh minced garlic to the pan drippings. Next the chicken broth, lemon juice, honey and fresh thyme sprigs are added and brought to a low boil. I return the chicken to the pan, cover and reduce to a simmer and cook for about 20 to 25 minutes.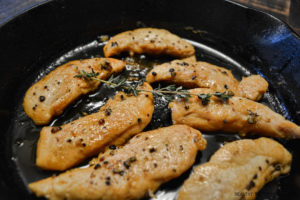 I remove the chicken from the pan then crank up the heat on the pan and reduce the sauce down by half. I arrange the tenders on a serving platter and spoon the sauce over top.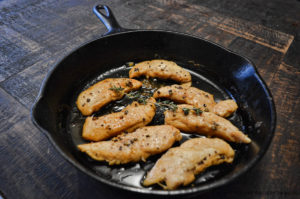 Honey-Thyme Chicken Tenders
2017-04-05 09:09:32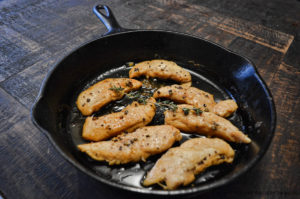 Serves 4
Ingredients
8 chicken tenders

1/2 tsp. sea salt

1/4 tsp. black pepper

1 tablespoon olive oil

2 cloves garlic, minced

1 cup chicken broth

1/4 cup fresh squeezed lemon juice

3 tablespoons honey

3 to 5 sprigs of fresh thyme or you can substitute 1/2 tsp. dried thyme
Add ingredients to shopping list
If you don't have Buy Me a Pie! app installed you'll see the list with ingredients right after downloading it
Instructions
Sprinkle chicken tenders on each side with salt and pepper, set aside.
Heat olive oil in heavy skillet over medium-high heat, add chicken and sear until lightly browned, about 5 minutes. Flip and brown on other side for another 5 minutes. Remove from skillet and set aside.
Reduce heat to medium and add garlic to the skillet that the chicken was cooked in, scrape up any browned bits. Cook 1 to 2 minutes, careful not to allow the garlic to brown.
Add broth, lemon juice and honey, whisk well.
Return chicken to skillet, add thyme, cover and simmer 20 to 25 minutes.
Remove chicken from skillet and set on serving platter, vent with foil to keep warm.
Increase heat to high and reduce liquid to about half, 5 to 10 minutes.
Spoon sauce over chicken tenders, garnish with fresh thyme and serve.
Print
Healthy Southern Cooking https://healthysoutherncooking.com/
© 2017, Healthy Southern Cooking. All rights reserved.