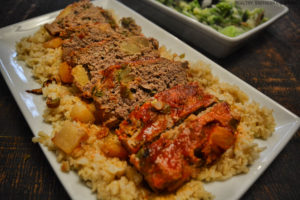 Meatloaf is known as a comfort food, it is satisfying, inexpensive and easy to make and the possibilities are endless.
Meatloaf can be cooked in a loaf pan, as the name suggests or can be formed into a loaf and cooked on a baking sheet. Alternatively, meatloaf can be cooked in muffin tins, which is handy when you are short on time as it cuts the cook time in half. You can also form it into meatballs and serve them as an appetizer or a main dish served on top of pasta, vegetables or rice. Another option is to form it into patties, like hamburgers, and serve it on a bun or in a salad. Leftover meatloaf slices are often served warm or cold as a sandwich.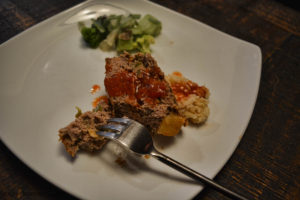 I came up with this recipe because I had some leftover bell pepper and canned pineapple from use in other recipes and it instantly screamed to me, sweet and sour.
I start with ground turkey, you could certainly substitute ground chicken or pork for this. To that I add rolled oats that pack some extra fiber and nutrition as well as keep the meatloaf moist and stretches the amount of servings. Egg, garlic and ginger is then added along with onions, bell pepper and pineapple. I use canned pineapple in its own juice for this recipe. Normally I would say that fresh is best but since we need some pineapple juice to make the sauce, you can't always be guaranteed that the fresh pineapple will render enough juice. In place of soy sauce I use liquid aminos, which has the flavor of soy sauce but unlike soy sauce, liquid aminos have less sodium and are gluten free and paleo friendly. If you are watching your sodium intake the coconut liquid aminos are much lower than that of soy liquid aminos but both are a lot less than soy sauce.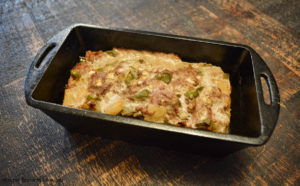 I place my meatloaf mixture into a loaf pan but as mentioned above, you can choose to cook yours to whichever suits you best.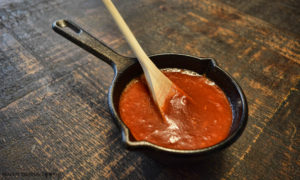 While the meatloaf is cooking, I begin working on the sweet and sour sauce. The sauce has tomato sauce, pineapple juice, rice vinegar, liquid aminos, agave nectar and a little bit of dry mustard. The sauce is cooked down until thick, part of it is poured over the loaf and the remainder served on the side.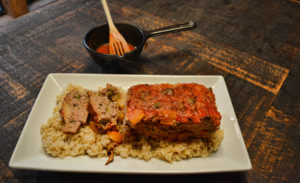 I place my meatloaf on a bed of cooked brown rice and it pairs well with all sorts of vegetables, especially any stir fry blend.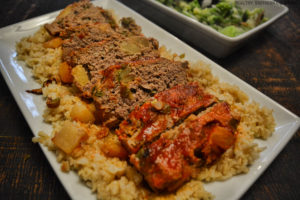 Sweet & Sour Meatloaf
2017-04-09 06:56:13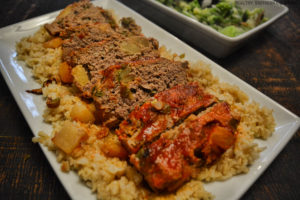 Serves 6
For the Meatloaf
1 lb. ground turkey

3/4 cup rolled oats

1 egg

1/2 cup green bell pepper, diced

1/2 cup onion, diced

1/2 cup pineapple chunks (canned in own juice) reserve liquid

3 cloves garlic, minced

1 teaspoon ginger root, grated

2 tablespoons liquid aminos

nonstick spray
For the Sauce
1 cup tomato sauce

1/2 cup pineapple juice (the reserved)

1/4 cup rice vinegar

3 tablespoons agave nectar

3 tablespoons liquid amino

1/2 tsp. dry mustard
Add ingredients to shopping list
If you don't have Buy Me a Pie! app installed you'll see the list with ingredients right after downloading it
For the Meatloaf
Preheat oven 350 degrees.
In a large bowl, combine ground turkey with oats until well combined. Add remaining ingredients with the exception of the nonstick spray and mix thoroughly.
Spray loaf pan with nonstick spray.
Press meatloaf mixture into loaf pan evenly.
Place in oven and bake 50 minutes to 1 hour.
Remove from oven and let rest 5 to 10 minutes before removing from loaf pan and slicing.
For the Sauce
While the meatloaf is baking you can make the sauce.
In a small sauce pan over high heat, add all ingredients for the sauce, bring to a boil and reduce by at least half.
Remove from heat but keep warm until meatloaf is ready.
Pour sauce over meatloaf and reserve a little sauce to serve on the side.
Print
Healthy Southern Cooking https://healthysoutherncooking.com/
© 2017, Healthy Southern Cooking. All rights reserved.