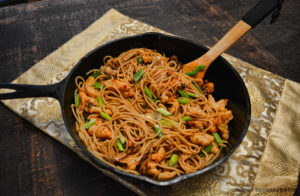 I came across a photo on Pinterest of this incredible looking dish, it was call Crack Slurp Noodles, It didn't have fried chicken, instead it was fried chicken skin. That didn't appeal to me at all but all the other ingredients sounded great, so I changed it up a bit.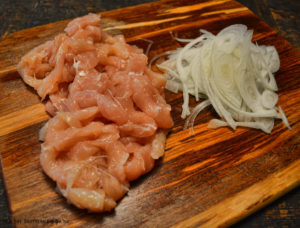 I slice up onions and chicken very thin so once they are dredged and fried, they are nice and crispy. I opted for cornstarch instead of typical flour for dredging because it fries up nicely and has a nice golden color to it and it doesn't require me to do a dredge in flour, then one in eggs then back to flour again to get the coating to stick. Cornstarch sticks to anything wet and isn't prone to falling off. It is also a lot lighter in texture and flavor.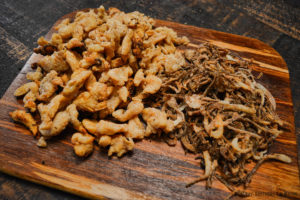 As you can see, once the onions and chicken are prepared they nearly double in size. Keep in mind that started out as just one single boneless, skinless chicken breast.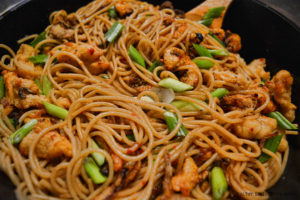 Instead of ramen or broad noodles, I used whole wheat spaghetti noodles, then drenched them in the sauce made with spicy chili garlic sauce. I tend to use this condiment a lot, you can find it in the Asian section of most grocery stores and the one I use is made by the same people that bring us Sriracha sauce.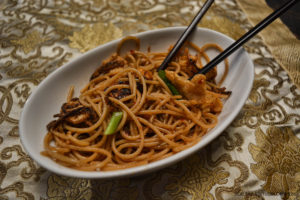 The crispy fried chicken and onions get added right before serving to retain their crispness then I toss in the sliced green onions. Grab yourself a bowl and dig in.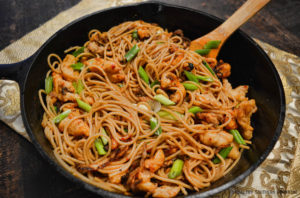 Thai Crispy Chicken & Onion Noodles
2017-04-09 09:09:55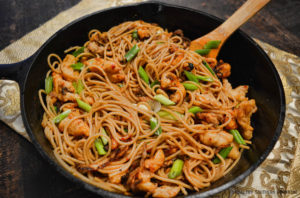 Serves 8
For Chicken & Onions
1 small onion, thinly sliced, 1/8" thick

2 cups ice water

1/2 cup cornstarch

1 tsp. sea salt

1/2 tsp. white pepper

canola oil for frying

1 lb. white meat chicken, cut in very thin and tiny pieces
For Sauce
2 tablespoons liquid aminos

1/4 cup rice vinegar

1/4 cup agave nectar

1/4 cup chili garlic sauce
Other Ingredients
1 lb. whole wheat spaghetti

water for cooking

2 tsp. sea salt

3/4 cup green onions, sliced
Add ingredients to shopping list
If you don't have Buy Me a Pie! app installed you'll see the list with ingredients right after downloading it
For Chicken & Onions
Place sliced onions in ice water, allow to soak 10 to 15 minutes, this will help take a little of the bite out of the onion and will also aid in the dredge adhering to the onions.
In a large bowl combine cornstarch, sea salt and white pepper, set aside
Drain ice water from onions.
Dredge onions in cornstarch mixture, place on cooling rack.
Dredge chicken pieces in cornstarch mixture, place on cooling rack separated into a single layer.
Heat oil in heavy skillet over medium-high heat.
Cook onions in batches in hot oil, until golden brown, about 2 to 3 minutes per side. Remove from oil with slotted spoon and place on rack lined with paper towels. Repeat until all the onions are done.
Skim any debris from oil and discard.
Cook chicken in batches, do not overcrowd the skillet. Cook until golden brown, 4 to 5 minutes per side. Remove from oil with slotted spoon and place on rack lined with paper towels. Repeat until all the chicken is cooked.
While frying the onions and chicken, prepare the pasta with water and salt per package instructions until al dente. Make sure you don't salt the water until it is boiling otherwise it will sink to the bottom and not season the water.
For the Sauce
Combine all ingredients for sauce in small bowl, whisk and set aside. You can make this ahead of time if you wish.
When pasta is ready, spoon about 1 cup of the salty pasta water into a cup, set aside.
Drain pasta in colander, place drained pasta in large bowl.
Add sauce to pasta, toss to coat, add a little bit of the reserved pasta water to noodles, a tablespoon at a time so sauce coats evenly, you may only use as much as 1/4 cup so don't worry that you need to use the whole cup of pasta water.
Add the fried onions and chicken and the sliced green onions to the pasta, toss and serve.
Notes
You can adjust the sauce by adding more or less chili garlic sauce, depending on your heat level. Once mixed with the pasta the spicy heat is distributed and not as intense. If you really like it to be more saucy, double the sauce recipe.
Print
Adapted from Crack Slurp Noodles
Healthy Southern Cooking https://healthysoutherncooking.com/
© 2017, Healthy Southern Cooking. All rights reserved.