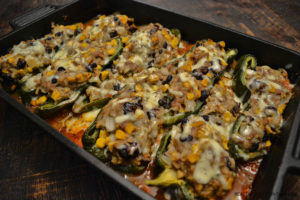 Poblano peppers are a mild chili pepper which originated in the state of Puebla, Mexico. While they are considered mild, some of these peppers possess a little bit of heat, usually near the stem area. Many associate these peppers with the popular Mexican dish, chili rellenos.
When you hear the words stuffed peppers, most will instantly think of bell peppers stuffed with ground meat with a mixture of spices, breadcrumbs or rice. It is basically a meatloaf shoved into a bell pepper that leaches an intense pepper flavor into the meat when cooked.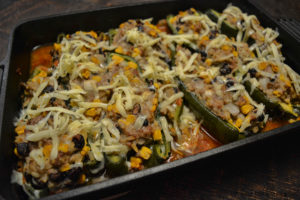 While I like stuffed bell peppers, I wanted to try something a little different.
It starts off with a homemade salsa in the bottom of the casserole dish, you can certainly substitute a large bottle of store bought salsa to save time. The filling consists of ground turkey rather than ground beef, you can use whichever you prefer even ground pork or ground chicken. Aromatics and cooked rice, corn and beans are added to the ground meat and then pressed into the halves of the peppers then baked and then garnished with some shredded cheese.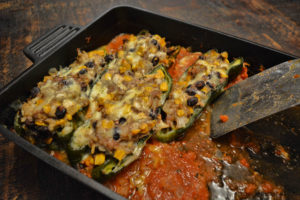 When selecting the poblano peppers for this recipe, look for peppers that are more symmetrical in shape and don't have the tips crooked. The peppers should be a healthy darker green color and should also be shiny.
I really thought, even though I used canola oil spray on the cast iron casserole dish, that clean up was going to be a mess but I was pleasantly surprised, as you can see, even the cheese didn't stick.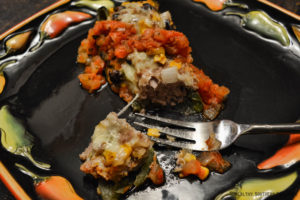 This dish is hearty yet light, bursting with an array of flavors. You have your lean protein, vegetables, grains, and calcium all in one healthy dish.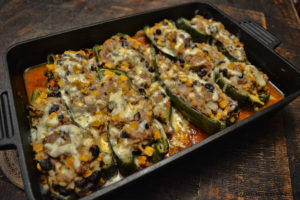 Turkey Stuffed Poblano Peppers
2017-02-22 14:05:22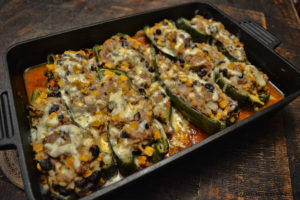 Serves 8
For the filling
1 lb. ground turkey

2 tsp. ground cumin

1/2 tsp. sea salt

1 small onion, diced

2 cloves garlic, minced

1 cup prepared brown rice

1 cup black beans (drained and rinsed if using canned)

1 cup corn
For the salsa
2 cups tomatoes, chopped

1/3 cup onion, diced

1 clove garlic, minced

2 tablespoons cilantro, chopped

1 jalapeno, diced (optional)

1 tsp. lime juice

pinch of ground cumin
Other ingredients
Olive oil spray

4 poblano peppers

1/2 cup pepper jack cheese, shredded
Add ingredients to shopping list
If you don't have Buy Me a Pie! app installed you'll see the list with ingredients right after downloading it
Instructions
Preheat oven to 350 degrees.
Spray sides and bottom of 9" x 13" casserole dish, it does not have to be cast iron like mine, glass will work just fine.
If you are using bottled salsa you can skip this step. In a blender of food processor, puree the chopped tomatoes, you could substitute 2 (8 oz.) cans of tomato sauce. Transfer tomato puree (or sauce) to small mixing bowl then stir in the remaining ingredients. Pour mixture into casserole dish then shake to distribute mixture evenly, set aside.
Slice each pepper in half lengthwise. Since all peppers are unique in their shapes, slice them so that you have them wider, if possible, they will sit better in the pan. Remove the stems with the membrane and seeds, rinse under cold water and set aside.
In a large bowl combine turkey with cumin and salt, knead with hands to mix well. Add in the onion and garlic, knead again. Add the prepared cooked rice, beans and corn lightly knead into the turkey so you don't smash the beans.
Place peppers on work surface with open side facing up. Spoon turkey mixture into each pepper half until you have used all the filling. Depending on the size of your peppers, the filling may be flush with your peppers or heaping on top of the peppers.
Lay peppers in casserole dish on top of the salsa with the stem ends at the edges of casserole and the pointed ends toward the center, while alternating sides as you do it.
Place in preheated oven and bake 50 minutes to 1 hour.
Remove from oven and garnish the tops with the stuffed peppers with the shredded cheese. Allow to cool for a few minutes then serve on plates and spoon salsa over the top.
Print
Healthy Southern Cooking https://healthysoutherncooking.com/
© 2017, Healthy Southern Cooking. All rights reserved.