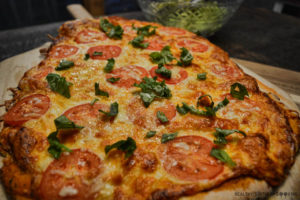 How would you like a big slice of Italian royalty? Pizza Margherita was named after Queen Margherita of Savoy, wife of King Umberto I. The pizza resembling the Italian flag was created for her by a chef in Naples when she visited in 1889. Although there is some debate, saying the same pizza was created 20 plus years earlier, it was the later version that made the pizza famous.
Ironically, pizza was considered peasant food but has since evolved into a universal dish with unlimited possibilities, I guess I would have been a happy peasant because it is one of my weaknesses and I know I am not alone.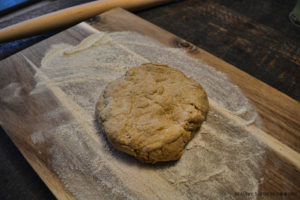 I've tried to make the dough all whole wheat but it was very dense and extremely hard to work with so I've had to cut it with bread flour to get the perfect crust. I use a bread machine to make my dough but you can certainly do this the old fashion way and I will provide instructions for doing both further on in the recipe.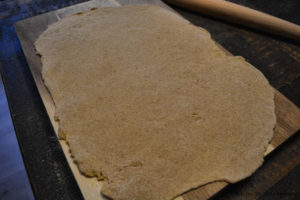 I wish I had the ability to be able to fling the dough into the air like they do at some pizzerias but if I attempted that, the family would starve. So I roll the dough out onto a floured surface. I prefer free form pizza that I cook on a stone but you can certainly roll the dough out into a circle and cook in a pizza pan.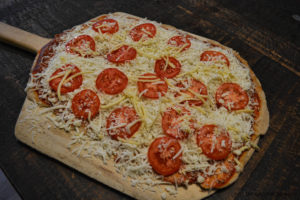 There are different methods you can use for your crust. Since I cook on a stone and use a paddle, I dust the paddle with cornmeal and also the cooking stone. This allows for sliding off the pizza from the paddle easier, think of it as small ball bearings that allow it to roll off easily and makes removal easy as well. If you are using a pizza pan you can do cornmeal in the bottom, spray with olive oil or use a combination of both, it's up to your individual tastes.
If you are using the paddle method, you will place your rolled out dough onto the cornmeal dusted paddle and then add the sauce and toppings. If you are using a pan you will transfer the dough onto the pan then add the sauce and toppings.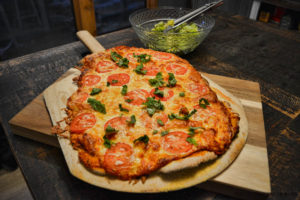 Toppings on pizza Marghertia include mozzarella, tomatoes and fresh basil. Traditionally fresh mozzarella is used but I've opted for shredded mozzarella that I mix with a little bit of shredded Fontina, a little tip I picked up from Wolfgang Puck. It adds a nice smokey dimension to the pizza, if you can't find Fontina you can substitute with a good smoked cheese such as Gouda. On top of the cheese is sliced Roma tomatoes, also called plum or Italian tomatoes. These tomatoes are slender and not as juicy and pulpy like regular red tomatoes. You'll notice that there is no basil atop the pizza, this is added after it has cooked because they will brown if you cook them and it won't look very pretty. Another topping I typically do is some fresh minced or sliced garlic, I really like garlic on just about everything.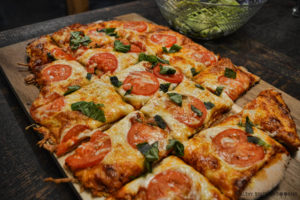 The pizza is then cooked in a very hot oven, 500 degrees, until the cheese melts and starts to turn a nice golden brown color. If you are making a thicker crust pizza I recommend reducing the oven heat to 450 degrees to make sure the crust cooks through thoroughly.
Remove from oven, add the basil and allow to cool slightly before slicing with a sharp knife of pizza cutter. Buon appetito!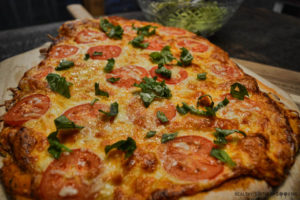 Pizza Margherita
2017-03-06 10:25:40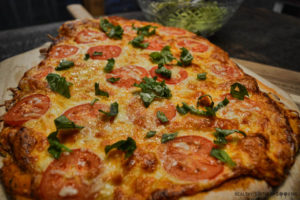 Serves 8
For the Sauce
1 cup tomato sauce, no salt added

1 clove garlic, minced

1/2 tsp. agave nectar

1/4 tsp, dried oregano

1/4 tsp. dried basil

1/4 tsp. dried thyme

1/4 tsp. lemon juice

1/4 tsp. sea salt

dash cayenne pepper
For the Dough
1 cup whole wheat flour

1/2 cup bread flour

2 tablespoons cornmeal

1 tsp. sea salt

1-1/2 tsp. active dry yeast

1/2 cup plus 2 tablespoons warm water

1 tablespoon olive oil
For the Toppings
2 cups part-skim mozzarella, shredded

1/4 cup Fontina cheese, shredded (optional)

3 Roma tomatoes, thinly sliced

5 - 6 fresh basil leaves, torn into pieces
Other Ingredients
Whole wheat flour for dusting

Cornmeal for dusting (for paddle and cooking stone)

Olive oil spray (for pizza pan)
Add ingredients to shopping list
If you don't have Buy Me a Pie! app installed you'll see the list with ingredients right after downloading it
For the Sauce
Combine all ingredients in a small bowl, cover until ready to use.
For the Dough
If you are using a bread machine, place all ingredients in bread machine, select dough setting and let the machine do the rest.
If you are doing dough the old fashion way, combine dry ingredients in large bowl, if you have a standing mixer use the paddle attachment. Add the wet ingredients to the dry ingredients. If doing by hand, mix and knead the ingredients until well combined and shape into a ball. In the standing mixer, keep mixing until a ball forms. Place plastic wrap over the bowl and store in warm place. Allow to double in size, about 1 hour.
When dough is ready, place dough on floured surface, roll out to desired size. Free form or round crust for pizza pan. You'll want the dough rolled out to 1/8" to 1/4" thickness, really depends on your preference on crust. If using the pizza pan, you can roll it larger than the pan and roll the dough over itself at the edges to form the outer crust, much like common pizzas.
Preheat oven to 500 degrees (if using cooking stone) slightly less, 450 degrees for thicker crusts or pizza pan.
If using the pizza paddle and cooking stone method, generously apply cornmeal to both paddle and cooking stone. Place prepared dough on paddle. Apply sauce by ladling to the middle and work in circles outwards to the edges. Sprinkle with cheese then layer with sliced tomatoes. Place in oven and cook 10 to 15 minutes or until top is melted, bubbly and golden brown.
If using pizza pan, spray pan with olive oil spray and dust with cornmeal, if desired. Place dough in pizza pan and roll up outer edges for thick outer crust, if desired. Apply pizza sauce by ladling to the middle and work in circles outwards to the edges. Sprinkle with cheese then layer with sliced tomatoes. Place in oven and cook 10 to 15 minutes or until top is melted, bubbly and golden brown.
Remove pizza from oven, sprinkle with fresh basil and allow to cool slightly before slicing.
Notes
Prep and cooking time does not include time that dough is rising.
Print
Healthy Southern Cooking https://healthysoutherncooking.com/
© 2017, Healthy Southern Cooking. All rights reserved.