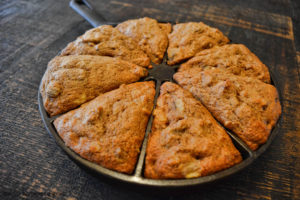 What smells better than the fragrance of banana nut bread baking in the oven? That sweet delicious aroma penetrates every room of the house. Banana bread was created in the United States and gained popularity in the 1930s with the increasing use of baking soda and baking powder.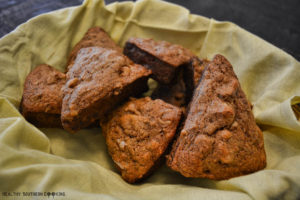 Banana bread is great for breakfast, brunch, dessert or just as a snack. It is a very versatile recipe that you can add other ingredients to. I add walnuts to make banana nut bread but you could add any nut of your choosing. You can add other ingredients such as oats, raisins, peanut butter, chocolate, etc., the possibilities are endless.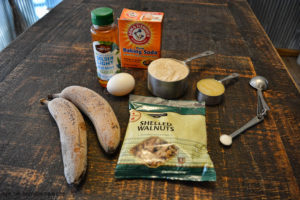 In creating a healthy version of this recipe, I've replaced the all purpose flour with whole wheat flour, the oil with unsweetened applesauce and processed sugar with agave nectar.
As you can see, I am using thawed frozen bananas. Ripe bananas work best for this recipe, the riper the banana that more sweet it is and also is higher in carbohydrates than a green banana. Since a lot of the sweetness in this recipe is derived from the banana, the darker the better. Don't worry if your bananas are bruised or dark in places, it will work find for the bread.
When I eat fresh bananas I only eat them green, just my preference which many find odd but that's me. If you have bananas that no one eats and they start to freckle or turn brown, you can just toss them in the freezer with their natural wrapper on them, A.K.A., their peel. You can also peel them, wrap them in plastic and then place in plastic storage bag in freezer until ready to use. It does not take that long to thaw them on the counter top.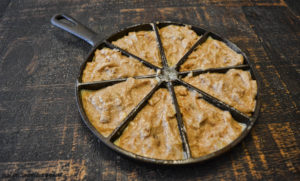 This is considered a quick bread meaning it doesn't have yeast and therefore the process of making the batter only takes a few minutes. Depending on what you cook yours in determines the cook time. If you use a traditional loaf pan it will take longer than if you baked it in a muffin tin. While I like banana nut bread anyway it is presented I do prefer using tins for two reasons; portion control and easy to just grab and go. I used a cast iron cornbread pan to bake mine which kind of makes them look like scones.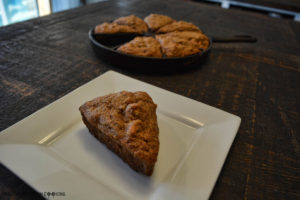 Did you know that there is a National Banana Bread day? It falls on February 23rd. and what better way to celebrate than baking up a loaf or two. Mmmm . . . can't you just smell it now?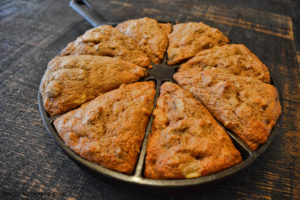 Banana Nut Bread
2017-03-11 11:27:07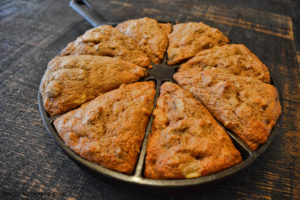 Serves 12
Ingredients
2 bananas, ripe

1 egg

1/4 cup unsweetened applesauce

1/4 cup plus 2 tablespoons agave nectar

1/2 tsp. baking soda

1/4 tsp. sea salt

2 cups whole wheat flour

1 cup walnuts, chopped.

nonstick spray
Add ingredients to shopping list
If you don't have Buy Me a Pie! app installed you'll see the list with ingredients right after downloading it
Instructions
Preheat oven to 350 degrees.
In a medium bowl, add bananas and mash until mostly smooth. Add eggs, applesauce and agave nectar, whisk until well combined then set aside.
In a large bowl combine baking soda, salt and whole wheat flour, mix well.
Gradually add the banana mixture into dry ingredients and mix thoroughly. Add walnuts and fold into batter.
Spray loaf pan or muffin pan with nonstick spray, you can alternately use muffin liners if desired. Pour batter in pan or tins, gently shake to level out. Place in preheated oven and bake.
Cooking times very - 50 minutes to 1 hour for loaf pan, 25 to 30 minutes for cornbread pan (as pictured) and 20 to 25 minutes for standard muffin tin. Bread is done with a toothpick inserted in center comes out clean.
Allow to cool slightly before removing from pan or tins. Serve warm or room temperature. Keep unused portions wrapped securely in plastic.
Notes
Nutritional data provided is based on 12 servings.
Cooking time is based on loaf, takes half cook time for muffin tin.
Print
Healthy Southern Cooking https://healthysoutherncooking.com/
© 2017, Healthy Southern Cooking. All rights reserved.