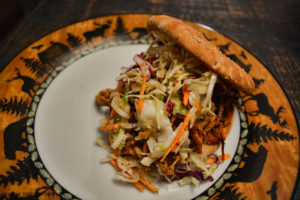 Pulled pork is a staple dish in the South, mostly in the Carolinas. Pork is widely used in the South because it is inexpensive. The typical cut of pork used for this recipe is pork shoulder which is also known as pork butt, picnic shoulder or Boston shoulder. If you would like a leaner pork for this recipe, I've made it with pork loin and it works well too.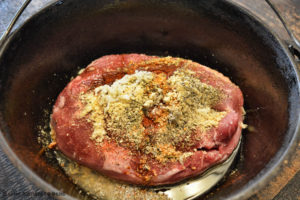 While some pulled pork is prepared by smoking the meat, others are cooked and braised in the oven and that is how I prepare mine. I start with a large Dutch oven but you can use any type of roasting pan with a lid even a Römertopf works really well for this dish.
Many pulled pork recipes are nothing more than barbecue sauce poured over the meat and baked slowly, I don't use store bought barbecue sauce because of the unhealthy ingredients. I lightly spray my Dutch oven with olive oil spray to prevent the roast from sticking. I then add paprika, minced garlic, dry mustard, cayenne pepper, black pepper, dried thyme, sea salt, pure maple syrup, water and apple cider vinegar. I don't rub the roast, I just dump it all in, place the lid on it and place it in the preheated oven and allow it to cook for about 6 hours.
While the pork is roasting in the oven it is time to make the fixin's that accompany this dish; barbecue sauce, crispy onions and coleslaw.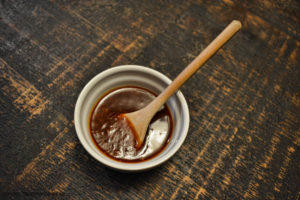 Barbecue sauce is simple to make but if you are short on time or prefer bottled you can skip this part of the process. The sauce is a mix of apple cider vinegar, whole grain mustard, pure maple syrup, garlic, tomato paste, cayenne pepper and sea salt. This sauce has a nice sweet and tart flavor with a little spicy kick that you can adjust to your liking.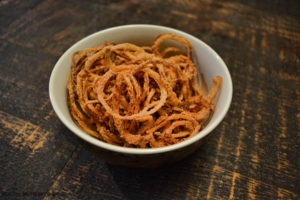 The crispy onions add another dimension of crunch and flavor to this recipe. Thinly sliced onions are mixed with whole wheat flour and garlic sea salt then lightly sprayed with olive oil and baked until crisp.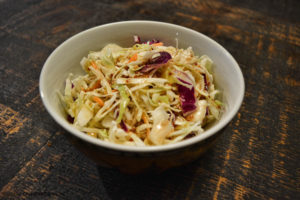 Coleslaw can be prepped at this time, you don't want to add the dressing to the cabbage mixture until ready to serve because you want the coleslaw to retain its crispness. You can shred your own cabbage and carrots for this or you can buy it already shredded from the market, it does cost more that way but it does save you time. The cabbage mixture is then tossed with a French vinaigrette when ready to serve. French vinaigrette is one of my favorite dressings and not only is easy to make but very flavorful.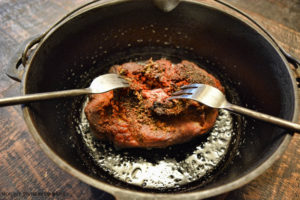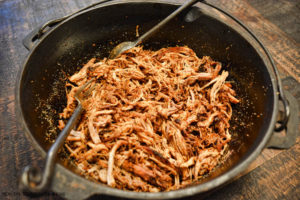 When the pork is ready, take it out from the oven, remove the lid and allow the pork to cool in the pan. Use two forks and start pulling apart the meat, you can also do this by hand when the meat is cool enough to handle. Mix the shredded pork together, soaking up any excess juices in the pan.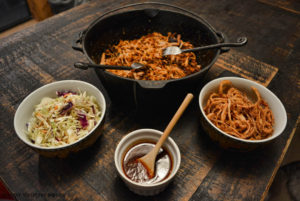 It's time to eat, pile on pulled pork, a little barbecue sauce and top with the crispy onions and coleslaw. In case you are wondering about the bun featured in the photo, that is a multigrain thin bun by Sara Lee, it works perfect without a lot of bread so you can taste the flavors better.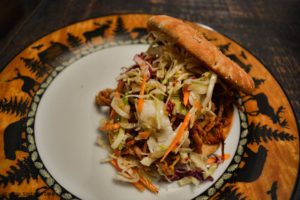 Pulled Pork
2017-03-12 11:05:37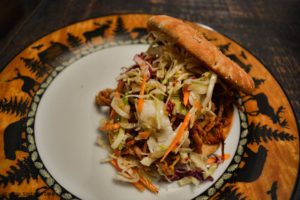 Serves 20
For Pork Roast
1 (8 lb. to 10 lb.) pork shoulder, boneless or bone in

1 tsp. olive oil (preferably passed through oil mister)

1/2 cup water

1/4 cup apple cider vinegar

2 tablespoons pure maple syrup

4 cloves garlic, minced

3 tablespoons paprika

1 tablespoon dry mustard

1 tsp. dried thyme

1 tsp. sea salt

1 tsp. black pepper

1/2 tsp. cayenne pepper (or to taste)
For the Sauce
2/3 cup apple cider vinegar

1/4 cup pure maple syrup

2 cloves garlic, minced

1 tablespoon tomato paste, no salt added

1 tablespoon dry mustard

1/2 tsp. sea salt

1/4 tsp. cayenne pepper (or to taste)
For Crispy Onions
1 small onion

Ice water

1/3 cup whole wheat flour

1 tsp. garlic sea salt

1 tablespoon olive oil (preferably passed through oil mister)
For Coleslaw
2 cups cabbage, shredded

1/4 cup carrot, shredded

1/4 cup apple cider vinegar

3 tablespoons olive oil

1 tsp. whole grain mustard

1 tsp. agave nectar
Other
Buns for sandwiches
Add ingredients to shopping list
If you don't have Buy Me a Pie! app installed you'll see the list with ingredients right after downloading it
Roast
Preheat oven to 300 degrees.
Spray Dutch oven or roasting pan with olive oil, if you don't have an oil mister use your fingers and spread the olive oil around the bottom of pan.
Place pork shoulder in pan and add remaining ingredients for the roast.
Cover and place in oven for 5 to 6 hours.
Remove from oven, then remove lid. Let rest 10 to 15 minutes.
Using two forks, pull apart and shred the pork, discard any excess fat and bone if there is one. You can also pull the pork apart with your hands, if desired.
Once pork is shredded, toss to absorb any excess liquids in the pan.
Sauce
Add all ingredients to small sauce pan bring to a boil. Once boiling reduce to low boil and cook until sauce reduces and thickens, about 20 minutes. Remove from heat, cover and store at room temperature until ready to use. Store leftover sauce in airtight container in refrigerator. You can skip this step if you are using bottled barbecue sauce.
Crispy Onions
Preheat oven 400 degrees.
Peel onion and slice very thin, 1/16" using a mandolin or hand slice.
Place sliced onion in ice water.
In a small bowl, combine flour and garlic sea salt. If you are unable to find garlic sea salt then use regular sea salt and add in about 1/4 tsp. of garlic powder.
Drain water from onions then place onions in flour mixture. Toss to coat all the onions.
Spray olive oil to bottom of baking sheet and add onions, then spray the remaining on the onions.
Place in oven and bake 8 to 12 minutes until golden brown, tossing occasionally with spatula.
Remove and transfer to wire rack to cool.
Coleslaw
In a large bowl combine cabbage and carrots or you can use the prepared coleslaw mix of cabbage.
Combine vinegar, oil, mustard and agave in bowl or cruet, mix well.
Toss cabbage mix with dressing.
Serve pulled pork with desired buns. Top with barbecue sauce, crispy onions and coleslaw.
Notes
Pork shoulder when fully rendered and shredded will lose approximately 40% of its weight.
Nutritional data provided is based on an 8 lb. roast/4.8 lb. redered and does not include bun.
Print
Healthy Southern Cooking https://healthysoutherncooking.com/
© 2017, Healthy Southern Cooking. All rights reserved.