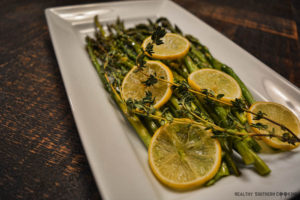 Growing up I was never forced to eat vegetables, in fact, for the most part they were never cooked. My mama on occasion would cook herself green beans, cauliflower and cabbage. Always when my papa was not around, either on a business trip or at work. I wouldn't try it, papa said they were nasty and the smell was nasty too. It turns out that my papa's mama would force him to sit at the table and eat a pile of vegetables he hated which with his stubbornness usually ended in a stand off that lasted hours. The only vegetables he would eat was succotash, green peas, corn, potatoes and green salad. It wasn't until I was around 30 did I try broccoli, cauliflower and asparagus. Cooked the right way, I loved them all.
Asparagus, by far, is my favorite vegetable. I love when spring hits and the grocery stores are full of fresh asparagus, the small pencil like size. Although I have bought the larger ones and surprisingly, some turned out tender as the narrower ones. When in season, asparagus is really cheap, grocery stores and farmer's markets run some really good deals on them.

When you buy fresh asparagus, one of the first things you have to do before cooking them is washing and trimming the bottoms of them. Many say to hold the spear and bend the spear and where it breaks is the place to trim. If you have done this enough times, it's usually 3 to 4 inches from the base up the spear. I found the easiest way not to mention quickest and cleanest, is to cut just above the lower rubber band. You may have to adjust the bad a little lower on the stalk, but a cut with a sharp knife will keep the ends of the spears intact, which can be frozen and used for soups, stock, stir fry and other recipes.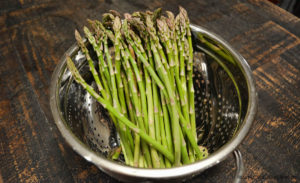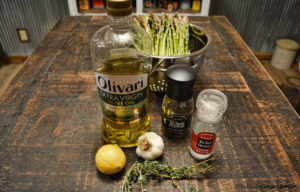 After trimming and washing the asparagus you will gather some really simple ingredients; olive oil, garlic, lemon, thyme, sea salt and pepper. Yep that's it, simple huh? This is something you could have your kids help in the kitchen and ignite their passion for cooking.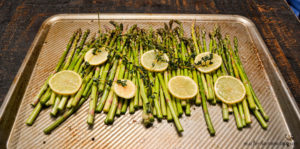 The asparagus is tossed with the oil, garlic, lemon juice, sea salt and pepper, then spread out in a single layer on a baking sheet then fresh thyme sprigs are scattered across the top. If you don't have fresh thyme, you can sprinkle on dried thyme. Then you whisk it away and place it in the oven and let it roast, I've garnished mine with some lemon slices because once they heat of and roast, they will release another intense lemon flavor into the asparagus and it looks pretty too.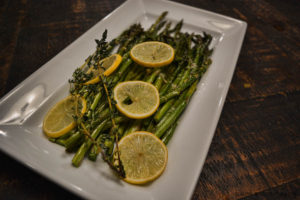 When the asparagus is done, you will remove the thyme sprigs and lemon slices, if you did that, and arrange the asparagus on a serving platter or individual plates, and then rearrange the the lemon slices on top for presentation and add some fresh thyme.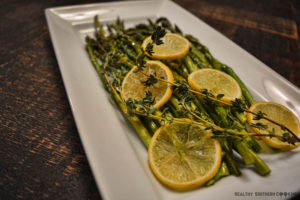 Lemon & Thyme Roasted Asparagus
2017-03-12 19:23:59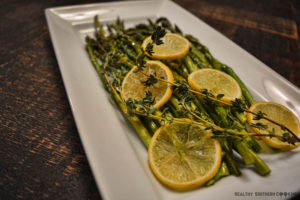 Serves 4
Ingredients
1 bunch asparagus, trimmed

1 tablespoon olive oil

1 tablespoon lemon juice

2 cloves garlic, minced

1/2 tsp. sea salt

1/4 tsp. black pepper

3 to 4 sprigs fresh thyme, more for garnish (optional)

1 lemon, sliced (optional)
Add ingredients to shopping list
If you don't have Buy Me a Pie! app installed you'll see the list with ingredients right after downloading it
Instructions
Preheat oven to 350 degrees.
Wash and trim asparagus spears.
Mix oil, lemon juice, garlic, salt and pepper in small bowl, whisk.
Place asparagus on baking sheet and drizzle with olive oil mixture, toss and coat the spears directly on the baking sheet using your hands or tongs.
Layer lemon slices on top, if using, and lay fresh thyme on top.
Place in oven and bake 15 to 20 minutes until asparagus turns a bright green color and it tender.
Remove from oven.
Remove and discard cooked thyme sprigs, place lemon slices to the side.
Arrange spears on serving platter or plates, garnish with reserved lemon slices and additional fresh thyme.
Print
Healthy Southern Cooking https://healthysoutherncooking.com/
© 2017, Healthy Southern Cooking. All rights reserved.