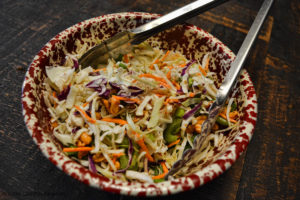 Many people associate coleslaw with the South but it actually comes from the Netherlands where it is known as koolsla. Here in America it is often a staple for barbecues, a topping for pulled pork and goes well with fried chicken.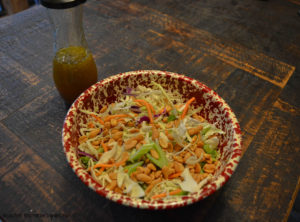 Peanut coleslaw is something I had at a barbecue restaurant, I loved it so much more than regular or traditional coleslaw. It was crunchy, tangy and very satisfying, I looked forward to it more than I did the rest of the meal. Of course the restaurant wouldn't give out their recipe so I had to play around with it until I could make a copycat version of it, which after some tweaking, I preferred more than theirs.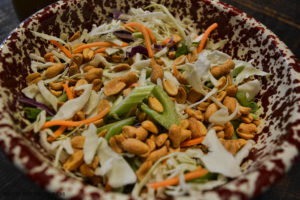 It starts out with shredded cabbage, you can do all green or add some red cabbage. To that carrot shreds are added, which can be bought already shredded if you need to save time. Alternately you can buy the shredded coleslaw mix, the one without the dressing which will have the 2 varieties of cabbage and carrots already mixed. Sliced green onions and celery are added to the greens. When it is time to serve, the coleslaw is tossed with a simple French vinaigrette and then tossed with roast peanuts.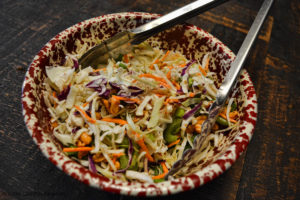 Peanut Coleslaw
2017-04-03 11:47:39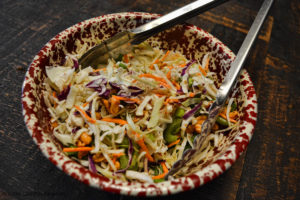 Serves 8
Ingredients
4 cups cabbage, shredded (all green or you can add some red cabbage)

1/2 cup carrot, shredded

1/2 cup celery, sliced

1/2 cup green onion, sliced

1/2 cup apple cider vinegar

1/4 cup plus 2 tablespoons olive oil

2 tsp. whole grain mustard

2 tsp. agave nectar

1/2 cup roast peanuts
Add ingredients to shopping list
If you don't have Buy Me a Pie! app installed you'll see the list with ingredients right after downloading it
Instructions
In a large bowl combine cabbage, carrots, celery and green onions.
Combine vinegar, oil, mustard and agave in bowl or cruet, mix well.
Toss cabbage mix with dressing.
Add peanuts when ready to serve, give a quick toss.
Print
Healthy Southern Cooking https://healthysoutherncooking.com/
© 2017, Healthy Southern Cooking. All rights reserved.