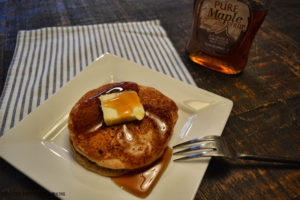 Ahhh pancakes! Makes me think of weekend breakfast when I was growing up. My mama would make up a big batch of pancakes and she had sausage or bacon to go with it. Although pancakes come in all sorts of flavors, as do the syrups, I've always been partial of simple buttermilk pancakes and maple syrup.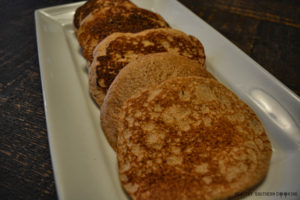 Pancakes go by a variety of names in America; griddlecakes, flapjacks, hotcakes and their counterparts in other countries such as crepes, blintzes and Dutch baby. They come in all shapes and sizes, some are stacked, filled, rolled and are found throughout the world. Some are sweet while others savory and can be served for any type of meal.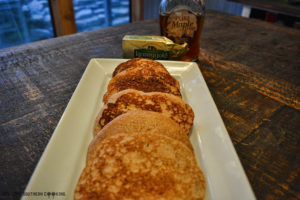 Creating a healthier version wasn't too difficult with replacing all purpose flour with whole wheat flour and adding a little extra baking powder to aid in making them fluffier since whole wheat tends to make a dense pancake. The batter is then sweetened a little with agave nectar and I cut the oil by using unsweetened applesauce. I use buttermilk and many of you might think that buttermilk is fatty but it is actually lower in fat and calories than milk and higher in calcium. You could also use an almond or soy milk in place of cow's milk with a teaspoon of apple cider vinegar to get the flavoring of buttermilk.

A quarter cup ladle of pancake batter is then placed on the griddle, once the pancake starts to dimple it is time to flip the pancake and cook the other side until it reaches golden perfection.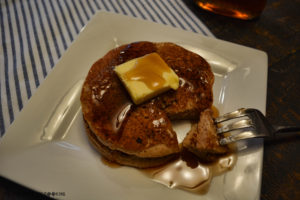 I place the cooked pancakes in a glass dish with a lid and place in a warm oven until the very last pancake leaves the griddle. Now it is time to eat! You can top yours however you like, I prefer a little dab of Irish butter and then warm pure maple syrup.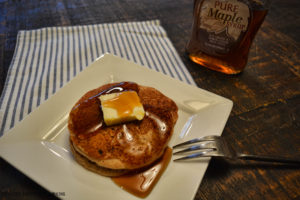 Whole Wheat Pancakes
2017-03-14 12:33:17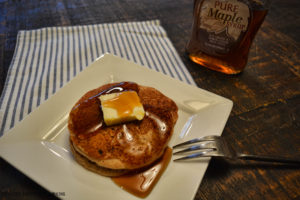 Serves 10
Ingredients
1-1/2 cups whole wheat flour

1 tablespoon baking powder

1 tsp. sea salt

2 tablespoons agave nectar

1 large egg

1/3 cup unsweetened applesauce

2 cups lowfat buttermilk, warm

nonstick cooking spray
Add ingredients to shopping list
If you don't have Buy Me a Pie! app installed you'll see the list with ingredients right after downloading it
Instructions
Preheat griddle or skillet over medium to medium-high heat.
In a large bowl, combine flour, baking powder and salt, set aside.
In another bowl combine agave, egg, applesauce and buttermilk. For warming the buttermilk, I place it in the microwave for 1 minute and that usually does the trick.
Gradually whisk in the wet ingredients to the dry ingredients Whisk until well combined and batter is smooth and a little thick.
Spray griddle with nonstick spray, I use a canola oil spray for this but you can use whichever you prefer.
Ladle batter onto griddle using 1/4 cup ladle or measuring cup per pancake.
Cook pancakes until bubbles form on the surface, then flip and cook an additional 2 minutes until golden.
Keep warm in oven until ready to serve.
Print
Healthy Southern Cooking https://healthysoutherncooking.com/
© 2017, Healthy Southern Cooking. All rights reserved.