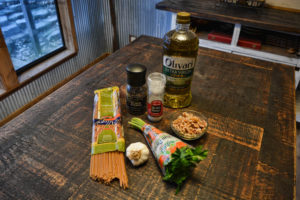 When you want something to fix that is easy, this is a good go-to dish that is wholesome whole grain and packed with flavor that is also low in saturated fat. It makes a great side or main dish and the best part, most of us have all the ingredients in our pantry so no special trip to the market.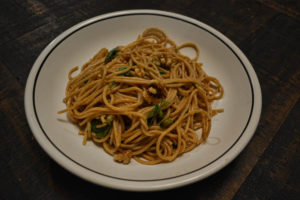 I start off with whole wheat or whole grain spaghetti, you can certainly substitute any type of pasta you want for this recipe; bow tie, elbow, fettuccine, etc. will all work fine. The pasta is cooked to al dente, which is firm to the bite but not hard. Al dente in Italian means "to the tooth".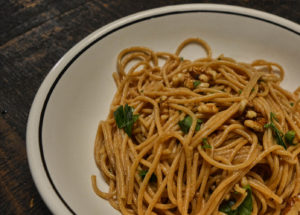 The drained pasta is then added to a large bowl then you add the olive oil, garlic, parsley, walnuts, salt and pepper and toss . . . that's it, super easy and delicious.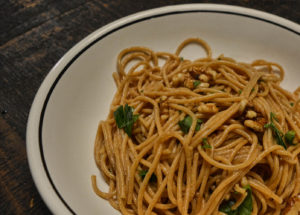 Olive Oil, Walnut & Garlic Spaghetti
2017-04-04 06:52:40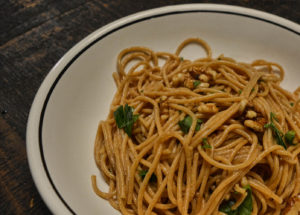 Serves 6
Ingredients
1/2 lb. whole wheat or whole grain spaghetti

water for cooking the pasta

2 tsp. sea salt

1/4 cup extra virgin olive oil

4 to 5 garlic cloves, minced

1/2 cup walnuts, pieces and halves

1/4 cup parsley, preferably flat leaf

1 tsp. cracked black pepper
Add ingredients to shopping list
If you don't have Buy Me a Pie! app installed you'll see the list with ingredients right after downloading it
Instructions
Bring large pot of water to rapid boil over high heat. Once water is boiling add 1-1/2 tsp. of the salt to the water. Drop in pasta and cook according to package directions to al dente.
Drain the pasta in a colander then add pasta to large bowl, can be the serving bowl if you wish.
Add the remaining ingredients, including the 1/2 tsp. of reserved sea salt, toss and serve.
Notes
If serving this as a side dish the servings will go up to 12 or you could halve the recipe and all nutritional data will be half.
Print
Healthy Southern Cooking https://healthysoutherncooking.com/
© 2017, Healthy Southern Cooking. All rights reserved.