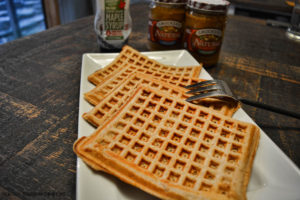 Waffles date back to Medieval times but instead of the grid waffle pattern we are accustom to now they depicted religious symbols. Nowadays waffles come in all shapes and sizes and nearly every country has their own version of a waffle. You can find them already made in the freezer section ready to pop in the toaster. Nearly any restaurant that serves breakfast has waffles on the menu. Many hotel chains that offer free breakfast have a waffle iron for you to make your own. Recently there has been a big trend in utilizing the waffle iron to do cornbread, eggs, hash browns and a lot of other delicious foods.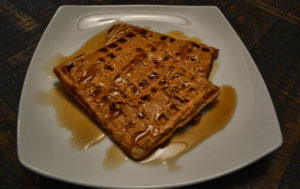 I wanted to create a healthier waffle with whole wheat goodness and lower the fat by cutting the buttermilk and oil without compromising the taste. I used whole wheat flour, sea salt and baking powder that is then in turn mixed with a little agave nectar, egg, warm buttermilk and unsweetened applesauce. If you wanted to make it dairy free you can certainly substitute the buttermilk with soy or almond milk and add a teaspoon of apple cider vinegar.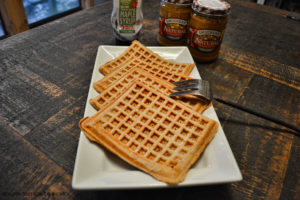 I chose a traditional American waffle iron opposed to a Belgian waffle iron. You could certainly make it either way but obviously it will take more batter for the Belgian therefore this recipe will yield half the servings and of course the nutritional data will double as well.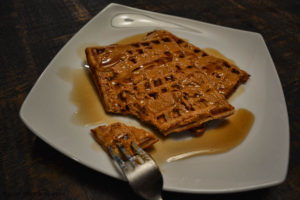 Toppings for waffles are endless; fruit, chocolate chips, butter, maple syrup, peanut butter, whipped cream, powdered sugar, dessert toppings, jams, jelly, and the list goes on and on. I chose natural peanut butter, not only because it is a healthy protein but as a child this was something my father would do with his waffles and I love it this way.
While many associate waffles with breakfast or brunch, breakfast for dinner is one of my favorites. So get creative and come up with your favorite toppings for these delicious waffles and make it your own.
Whole Wheat Waffles
2017-03-14 11:24:44
Serves 8
Ingredients
1-1/2 cups whole wheat flour

2 tsp. baking powder

1 tsp. sea salt

2 tablespoons agave nectar

1 large egg

1/3 cup unsweetened applesauce

1-1/2 cups lowfat buttermilk, warm

nonstick cooking spray
Add ingredients to shopping list
If you don't have Buy Me a Pie! app installed you'll see the list with ingredients right after downloading it
Instructions
Preheat waffle iron.
In a large bowl, combine flour, baking powder and salt, set aside.
In another bowl combing agave, egg, applesauce and buttermilk. For warming the milk, I place it in the microwave for 1 minute and that usually does the trick.
Gradually whisk in the wet ingredients to the dry ingredients Whisk until well combined and batter is smooth and a little thick.
Spray waffle iron with nonstick spray, I use a canola oil spray for this but you can use whichever you prefer.
Ladle batter into waffle iron. My particular waffle iron is about 1/3 cup batter per waffle yours could very due to size.
Cook waffles to desired crispness, keep warm in oven until ready to serve.
Print
Healthy Southern Cooking https://healthysoutherncooking.com/
© 2017, Healthy Southern Cooking. All rights reserved.